Stella wanted to go to school but her father thought it would 'spoil' her chances of marriage. Kenyi Betuel – editor of a girls' education radio show – explores some of the cultural barriers facing girls who want an education in South Sudan.
"My father only sent one of my elder sisters to school. He told me that the rest of us had to remain in the village," says Stella, sadly wringing her hands.

"Whenever I saw children in school I used to cry," she adds. "But now I'm in school, I'm happy."

Standing tall outside her classroom Stella, a sparky 15-year-old girl from Toposa in the east of South Sudan, is being interviewed for the radio show Our School. Producer Tina Losike is asking people why many communities see school as a dangerous place for girls.
In Stella's case, her father was worried education might 'spoil' his daughters, making them unsuitable for marriage. This would mean him missing out on the cattle traditionally given as a dowry to the family of a bride in South Sudan.

This fear led him to educate only one of his daughters and keep the others – including Stella - at home to prepare for their future as wives.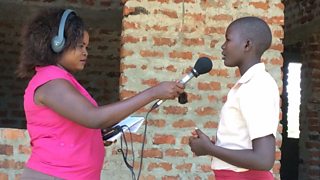 Producer, Tina Losike interviews Stella outside her school in Toposa, South Sudan
Homework vs housework
Stella's story is a common one. Many people in South Sudan believe a girl should be doing housework, not homework. Whole communities of girls are prevented from getting an education for fear that they will lose respect for time-old traditions that place women firmly in the home.
Stella had wanted to sneak into school with the boys from her village but the prospect was daunting, "We didn't know people in town and were scared that we'd get lost on the way," she says.

Her father finally relented once convinced of the future economic benefits of educating his daughters.
"My father only gave my sisters and I permission to go to school when he realised the benefits school had on my brother," she says.

"My brother… has bought many cows for my father…paying for him to travel between the village and town by car whenever he wants."

Like Stella's father, Lopeyok a father and community elder changed his mind about school being a 'dangerous place' for girls.
"Now I have realised that the school is good for girls, I am ready to pay for my daughter's school fees" he tells Tina. "If they ask me anything for school I have cows that I will sell for my children to study."
I want to be a doctor

Despite starting school relatively late, Stella is working hard to achieve her dreams.

"It won't take me long to finish my school" she says defiantly. "I want to be a doctor to serve…my community." She's aware of how different things could have been: "If I had remained in the village up until now, I would already be married, have many children – and be working on the land."

I hope her story is an inspiration for all our listeners - girls, parents and community leaders. The more that fathers realise that educating their daughters is beneficial for their family, community and country, the more that girls will realise their potential.

Our School – funded by DFID through the Girls' Education South Sudan (GESS) project – is produced by a team of local producers and broadcasts in nine languages.
BBC Media Action isn't funded by the BBC's licence fee and depends on the generous support of donors. Help support our work.

Related links
Read more about Our School
Follow us on Twitter, Facebook and Instagram
Go back to the BBC Media Action website