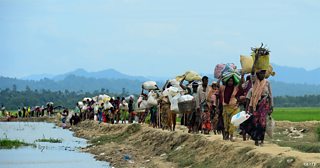 The scale of the humanitarian crisis is visible on the road winding away from Cox's Bazar long before you reach the camps.
Empty aid trucks head back to town as the landscape shifts from palm trees to rice fields and then hillsides full of shacks with orange and blue plastic sheeting for roofs.
These camps are now home to nearly 860,000 Rohingya people who have fled violence in Myanmar - with more than 600,000 arriving since August 2017. That's more than the population of Sheffield.
There is no disguising that it's a major emergency and getting bigger and more complicated. It is predicted that 48,000 babies will be born into these conditions where poor sanitation increases the risk that deadly diseases will spread quickly. People are traumatised: they have left behind their homes and livelihoods and witnessed unspeakable violence. Many are now at risk of exploitation by criminals.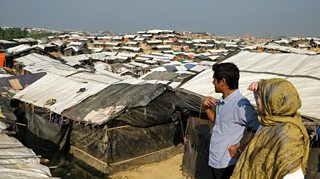 Caroline Nursey viewing the camps in Cox's Bazar, Bangladesh
In a situation like this, access to information is as important as food, water and shelter - it saves lives. And we are there, supporting our local radio station to produce Lifeline radio programmes providing vital information to Rohingya people on how to survive, cope and recover.
Beggunor Lai (For Everyone) is broadcast locally on Bangladesh Betar, Bangladesh's state broadcaster and Radio Naf, a community radio station. With our support, Radio Naf also produces Shishur Hashi (Children) a programme aimed at children, who make up more than half of those displaced from Myanmar.
I visited Cox's Bazar to see first-hand how we're delivering this life-saving work and the impact it is having. People gathered around a wind-up radio in one of the day centres set up in the camp - a makeshift structure with a corrugated iron roof - and it was clear that access to information is a critical need. I also met our team and local broadcasters who all felt proud and enthusiastic to be producing programmes that are making life bearable for people in desperate need.
Programmes have given advice on getting vaccinated against cholera and diphtheria, finding clean water, nutrition and keeping children and other vulnerable people safe. As cyclone season approached, the shows explained how to strengthen temporary shelters in preparation for storms.
And they give Rohingya people a voice through phone-ins and vox pops - vital for mental well-being.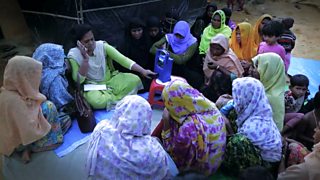 Women and children listening to Beggunor Lai (For Everyone) in Cox's Bazar
The programmes - funded by Unicef - are broadcast in the local Chittagong dialect that the Rohingya people can understand. And we are working with a range of partners to set up listening groups, like the one I saw, because few people have radios of their own.
There are serious problems in store unless more land becomes available to build secure shelters before the monsoon season starts in April. The hillside camps are at risk of serious mudslides, and disease will spread if floods pollute water points.
And the next stage - with a new tranche of UN funding - involves us working with Internews and Translators Without Borders to strengthen the two-way communication between people affected by the crisis and aid providers so that Rohingya people can help shape the services and information that they receive.
I have never come across a crisis where communication is recognised as such an integral part of the humanitarian response - thanks in large part to our work in Bangladesh over many years to help prepare for natural disasters. The work is impressive - but there is much more to be done.