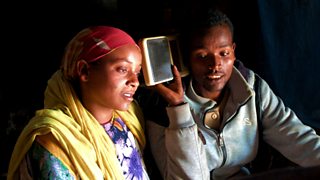 As COVID-19 spreads around the world, it is clear that trusted information is vital to help us understand what is happening and how we can protect ourselves and our families.
As with all global calamities, it will be the poorest and most marginalised who suffer most. We at BBC Media Action are engaged in the rapid response, as well as preparing for the long haul when the world will rebuild from the life-changing effects of COVID-19.
At the same time, we must keep our staff – and everyone we work with – as safe as possible. Many colleagues are working from home all around the globe and have shown great ingenuity in quickly adapting to new ways of delivering our projects. Some work – particularly in countries where connectivity is poor – can only be done hands-on, but we are following social distancing, handwashing and all the advice that we ourselves make available to others. I am grateful to all our staff for what they are doing and, particularly, to those who have decided to stay outside their home country for this period to help save lives.
BBC Media Action is working with media and communication to support the global response to this crisis in four ways:
1. Producing and sharing content that responds to the immediate information needs of millions of people around the world. This includes information about protective behaviours, symptoms, social distancing and restrictions, and dispelling the false information that is spreading along with the virus itself. This essential information is available across TV, radio and popular social media platforms. And we are making it available to other organisations including ministries of health, public health NGOs, and the media
2. Addressing the secondary health, social, economic and psychological effects of COVID-19 on communities in the developing world. Media will help communities understand what they can do about these challenges and provide a sense of shared social responsibility, reduce societal tension and encourage accountability. Our work will reflect this and, wherever we can, we will use our discussion programmes and dramas to help people rebuild their lives and livelihoods.
3. Supporting national and local media partners, NGOs and local governments to communicate effectively about COVID-19. We are doing this through distance training and mentoring to help partners develop their own content that responds to the changing information needs of the communities they serve.
4. Working to support the economic viability of independent media at a time when they are most needed. Media that operate in the interest of the public are under intense economic pressure worldwide, and the pandemic is exacerbating the financial strain. We are committed to finding diverse ways to support the commercial sustainability of public interest media.
We have been innovating in health communication and supporting communities for 21 years. At this time of crisis, we will continue to demonstrate that trusted media has the power to save lives.
--
Caroline Nursey OBE is Chief Executive Officer of BBC Media Action.
If you'd like to read more about our COVID-19 response and find out how you can help, click here.