This International Women's Day, our mentor Chishaba in Zambia shares the inspiring story of Patricia, a news editor for a local radio station. She is one of a growing number of women in management in an industry which - in Zambia, as elsewhere – has traditionally been dominated by men.
Patricia Kahongo's day begins early, at 4 am, with early morning devotions. Then she cleans the house which she shares with her aunt, uncle and six cousins, before she sets out on the 10-km journey from her home in Maramba, Zambia, to the radio station Musi-O-Tunya FM in Livingstone.
For seven years, Patricia has been working at Radio Musi-O-Tunya FM, which is part of BBC Media Action's mentoring programme, 'Radio Waves', in Zambia. Now, as News Editor, Patricia is one of a growing number of women working in management in an industry which – in Zambia, as elsewhere – has traditionally been dominated by men.
The smoke that thunders
As one person leading a team of two, Patricia's day starts ahead of its first broadcast at 6 am. She finds herself doing a bit of everything: overseeing the news desk, working in the field, managing on-air news and pitching in on front-office functions.
The name of her radio station, Musi-O-Tunya, means 'the smoke that thunders,' and derives from the local Toka Leya tribe's description for the mighty waterfall which was later renamed Victoria Falls by the explorer David Livingstone. Founded in 2004 as a Catholic station, the station now broadcasts a mixture of political and general news and human-interest stories to approximately 300,000 people.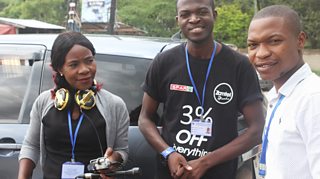 Broadcasting from 6 am to midnight, the station has an active Facebook page, but delivering news and information is a constant challenge, says Patricia, with only two outdated computers to share.
"We don't have [enough] modern equipment like computers to ease our work. Sometimes we have to use phones to file our news stories. Another major challenge in our story collection is inadequate transport which deter our efforts to reach remote areas, where the real issues are," she says.
But despite the odds, Patricia is proud of the role her station has played in sharing important information about the political process, particularly in the run-up to expected Zambian elections next year. They have also covered stories that range from the importance of rainwater harvesting to protect against drought, to addressing tribalism and discrimination in the country.
She describes how the station covers stories of marginalised people in Livingstone, including human interest stories about people with disabilities, older people and children, and social issues such as a proposed social cash transfer programme by government.
"I remember one story of a girl with a disability who had qualified to go to university but was not admitted because of the lack of physical facilities. After a public radio debate about this discrimination, she has since been enrolled into university."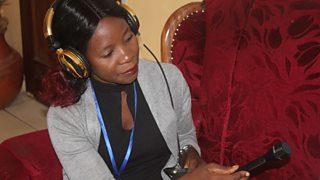 Knowing our fundamental rights as women
She faces additional challenges which she attributes to attitudes toward gender in a traditional society. "Sources take advantage of us as women by making indirect sexual advances when we are sourcing for information," she says. "Sometimes they do not take us seriously."
This is, she says, where the partnership with BBC Media Action has been particularly supportive for her. In addition to working with the station on editorial content and standards, she says BBC Media Action has helped her develop as a journalist and better understand her own rights. She encourages other young female journalists to not be intimidated and to rely on their ethics, and encourages partner radio stations to provide more support to their female journalists.
"BBC Media Action has been a great partner and all I am today, I owe to them. Apart from the media work they have a special component of safeguarding that has taught us to be aware of our fundamental rights as women and what to do if we are being taken advantage of by men in the course of our duties," she says.
--

Chishaba Masengu is a mentor for BBC Media Action in Zambia
Our 'Radio Waves' project is funded by The Swedish International development Agency, find out more here.