Bangladesh is one of the most disaster-prone countries in the world. In addition to frequent cyclones and drought, large areas of the country are at risk of earthquakes. With densely populated cities, even a relatively small earthquake could have catastrophic consequences. Amrai Pari (Together We Can Do It) is harnessing the power of media to help people be better prepared.
To help, Amrai Pari enlisted Ross Bollinger, an animation artist famous for his tongue-in-cheek Pencilmation cartoons. I caught up with him to tell us a little more about his hopes for the project.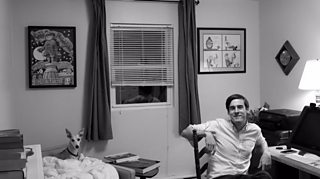 Ross Bollinger hanging out with his dog, Pia.
You're best known for producing entertaining cartoons. How did you get involved in a humanitarian project like this?
The Amrai Pari team had spotted my Pencilmation cartoons online and emailed to ask if I could adapt them to help people in Bangladesh respond to earthquakes. I was intrigued and emailed them right back. Although I was vaguely aware of the odd earthquake in Virginia where I grew up, the tiny tremors were nothing compared to the magnitude of earthquakes possible in Bangladesh.
Despite normally creating cartoons purely for entertainment value – I could immediately see how in this case, humour could help people learn how to protect themselves in serious earthquake situations.
The films have received tens of thousands of views on YouTube, why do you think they're so popular?

The character in the films is a little stick figure that transcends gender, ethnicity and language. It's something everyone can relate to. I hope the films will continue to gain traction so as many people as possible will see them.
We're already looking at how the films can be used across our humanitarian preparedness work in other countries. Does this surprise you?
That's great. Not having dialogue allowed us to cut right to the point; 'make noise when trapped under rubble' or 'stay away from buildings that are likely to topple on top of you.' That's the beauty of cartoons. Unlike language, animation is universal. It allows people to quickly understand the message, whatever language they speak.