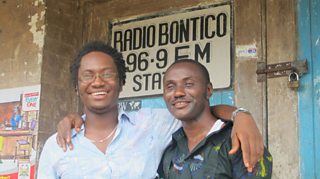 At BBC Media Action we've been talking a lot about sustainability and our commitment to supporting change that lasts beyond the lifetime of an individual project.
One of the best ways we can contribute to lasting change is by working with local media partners to improve the quality and sustainability of their programming and of their organisations.
Powerful partnerships
So for example, we've recently been working with community radio stations in Zambia to strengthen their ability to produce political discussion programmes. The result has been low-cost programmes, editorially steered by our partners which meet the needs of local audiences. These programmes have become part of the stations' schedules and continue to be broadcast after donor support has ended.
Looking back further, in 2005-6 we worked in Russian prisons developing radio programming on rights and health.  Radio stations were established in six prisons and prisoners and prison officers were trained in programme-making. Three of these stations are still operating today and four more have been set up in other prisons.
And our work can also have an influence beyond the partners we work with directly.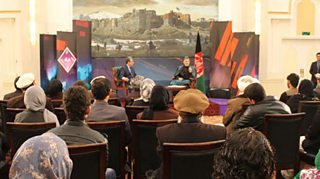 Since Open Jirga, the debate programme we make with Radio Television Afghanistan, went on air, other networks are now producing more political programmes and altered the formats of existing debate shows, giving audiences additional opportunities to question panel members. We'll be watching to see whether these changes take hold and what impact they have on accountability in the country.
Long-term funding
Often though, it can be difficult for partners to sustain high-quality media programming once project funding ends.
Our team in Nepal, for example, explain that "stations do try to continue running the programmes, but they are expensive due to the cost of travel, salaries and fuel for the generator. Once the partnership ceases and without proper funding from other agencies, the stations can't maintain the programmes up to standard or serve as many locations."
So to address such challenges we also provide business development support to many of our partners, working with them to grow audiences and advertising revenue and to secure additional funding.
In Sierra Leone, for example, we've been working closely with the board and management team at Radio Bankasoka in the north of the country to help them develop a business plan.
An agreement has now been signed between the station and their district council, providing funding while also protecting the station's public service remit and editorial independence. This is a first in the country.
Building local support
For other partners, supporting the development of relationships with local leaders has been very important. This can involve building awareness among local government officials to build their awareness of how public service broadcasting functions.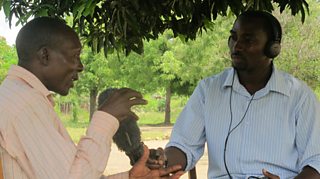 In Tanzania we have supported partner radio stations to hold open days bringing together different stakeholders.
Robust debates about editorial standards, corruption and independence have ensued and our partner stations have reported improved relationships with local government as a result.
In Angola we convened meetings where media practitioners, civil society organisations and donors could meet government officials responsible for media policy. This enabled them to express their needs and opinions and give feedback on changes to media regulation.
The sustainability challenge
Despite these positive stories, we recognise that financial and institutional sustainability remain a very real challenge for many of our partners.
Whilst capacity strengthening efforts can make an important contribution, media independence can be compromised by political interference unless closely protected.
And economic underdevelopment, weak advertising markets and limited opportunities for apolitical public funding make financial sustainability problematic.
In these difficult circumstances, we remain committed to supporting our partners while also recognising the importance of continued public or donor subsidy if media is to meet important public needs in the long term.
We're pursuing other promising ways to prolong the impact of our work – for instance by working to develop skills within government agencies such as health or disaster preparedness ministries. And I'll be blogging more about that work soon.
Related links
Follow @carolinesugg
Follow BBC Media Action on Twitter and Facebook