Reporting in a crisis often means covering death tolls, human suffering and instances of government failure. But just as important is providing accurate, trusted information that people need to cope and survive.
As the COVID-19 outbreak continues, the WHO's Director-General has referred to an 'info-demic' accompanying the virus. Rumours and mis- and dis-information, including false cures and how the disease is spread, can be as harmful as the virus itself.
BBC Media Action is working with partners – including the International Federation of Red Cross and Red Crescent Societies, the World Health Organization, Internews, Translators Without Borders and others - to counter these harmful rumours while helping to ensure reporting is for people affected, not just about them.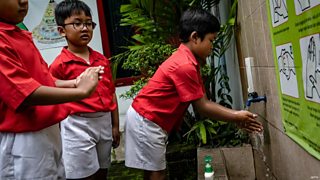 Students wash their hands before entering the Cinta Bangsa kindergarten as Indonesia reports two cases of COVID-19 on March 4, 2020 in Yogyakarta. (Photo by Ulet Ifansasti/Getty Images)
Here are our top tips for media reporting on disease outbreaks and public health emergencies to help make sure audiences are informed, connected to the services they need, and inspired to cope.
Be prepared. Build contacts with emergency responders, health organisations and experts ahead of time. Discuss what the public might need beyond breaking news.


Do your research. Learn the basics about prevention, transmission and treatment and consult with experts to ensure informed reporting.


Coordinate. In a public health emergency, media and health responders need to work together to provide timely, clear and consistent information.


Help your audience stay healthy. Provide accurate information about what is happening, and explain the emergency response measures underway, including how and when to access help, how to prevent the spread of disease and what to do if they or family members have symptoms.


Feature trusted voices, and counter mis- and dis-information. People only act on information and guidance if they trust it, and that is partly based on who the information comes from. Who will your audience trust? And are they reliable sources of information?


Ask the right people the right questions. Select people with the right knowledge, credibility and ability to express themselves on the subject. This might not always be an expert.


Motivate your audiences to cope. Showcase positive stories of coping and recovery and share experiences and learning from others affected. And think creatively: short public-service announcements, longer documentary-style segments, even catchy songs can reach people with life-saving information.


Interact with your audience. But remember to keep yourself and your audiences safe – during a disease outbreak, call-ins or on-line discussions may be safer than in-person interactions. And don't forget about the voices of the most vulnerable people, who might be harder to reach.


Do no harm. It's not enough to just make sure your information is accurate. Consider how your reporting might be interpreted and whether it might be feeding stigma or discrimination – for instance by appearing to link a particular group with the spread of a health problem. And be empathetic and sensitive. The needs of someone affected by a disease outbreak are always more important than the needs of the interviewer.


Think of the bigger picture. Disease outbreaks and health emergencies affect more than people's health. Their livelihoods, education, daily routines, access to food and routine healthcare are all likely to be affected by the outbreak.
Above all, communicate well. This may seem obvious! But to ensure programmes are as accessible and helpful as possible, they need to be clear and accurate, realistic, engaging and solution-oriented. Trusted, consistent, practical programming saves lives.
To read more about reporting in public health emergencies, please use the BBC Media Action's guide here.