As our flagship peace-building radio drama, The Tea Cup Diaries, marks its fifth anniversary, learn how the show has helped bridge divides between diverse communities in Myanmar, and how it continues to support and entertain its loyal following during the COVID-19 pandemic.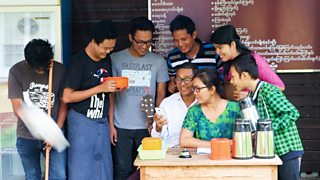 The eclectic cast of The Tea Cup Diaries
A young inter-faith couple falling in love and marrying despite their parents' concerns, an adopted daughter on a mission to discover her biological family, a journalist and filmmaker tackling fake news, and a family-run tea shop that has faced fires, economic meltdowns and now the COVID-19 pandemic – and through many other twists, turns, trials and tribulations, The Tea Cup Diaries has it all.
Since its launch in 2015, the show has reached millions of listeners across Myanmar – promoting understanding, openness, and respect for people from different ethnic and religious backgrounds. Now in its eighth series, the show continues to touch the hearts of audiences with relatable characters who reflect the country's rich ethnic and cultural diversity, and entertaining storylines that provide a window into the different lives, experiences and beliefs of its communities. In the process, it's garnered a following of dedicated fans – like this group of weavers from remote Kachin state, who we featured back in 2016.
The Tea Cup Diaries is unique in its timely reflection of real-life events woven into the drama's plotlines, and the impact of COVID-19 is no exception. Our team behind the show was quick to adapt to the upheaval – from setting up home recording studios, to introducing new storylines reflecting how different characters are dealing with the pandemic.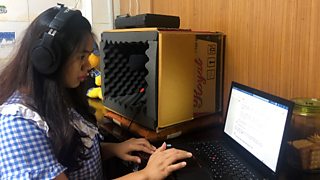 The Tea Cup Diaries producer/presenter Ma Thet Su and her home production set up during lockdown
With the tea shop in the drama shut due to COVID-19, the characters are struggling to adapt and missing each other. Listeners follow them as they learn ways to keep themselves safe, asking each other: What are the rules? How do we keep our families safe? Are we allowed to go outside? Is there a vaccine and can local herbs cure us?
We've been following up each recent episode with a magazine-style programme in which we interview doctors, religious and community leaders, actors, celebrities and members of the public who have been quarantined or diagnosed with COVID-19. We talk about how their lives have changed during the pandemic – sharing diverse perspectives and fostering a sense of 'we're all in this together,' regardless of ethnic or religious differences.
Since the beginning, we've used in-depth research to understand our audiences, explore their engagement with key communication objectives, and adjust content accordingly. The most recent findings from a panel study found that audiences were delighted to hear The Tea Cup Diaries continue to broadcast despite movement restrictions. Listeners reported learning about the 'dos and don'ts' of managing risks related to COVID-19 and enjoyed hearing how their favourite characters were dealing with these challenges:
"Everything is included – such as washing hands, avoiding crowds and gatherings and talking from at least six feet away" – Female, 29, Ayeyarwady

"We should respect and follow [COVID-19 advice], as it is happening all over the world. We should not be neglectful and forget. [The show] is presenting according to what is practically happening outside – it is more complete and meaningful as they warn us with storylines and drama" – Male, 58, Bago
As access to the internet expands rapidly in Myanmar, and brings with it a burgeoning population of young Facebook users, we've also cultivated our own digital Tea Cup Diaries community. Almost 1 million people now follow the show's Facebook page – where we bring the themes of the show and the country's diverse culture to life even more vividly through engaging daily video and social content. At the same time, we've worked to improve our followers' digital literacy to help them navigate fake news and mis- and dis-information – all of which threaten to sow further division in the country.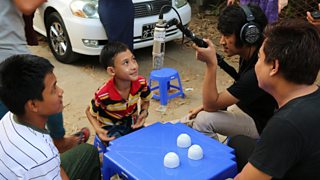 The youngest Tea Cup Diaries character, James, who has grown up on the show
Five years of The Tea Cup Diaries is a truly wonderful milestone and reflects an amazing creative journey with so many talented people who have produced and supported the show over the years. We are grateful for our loyal audience who have laughed, loved, learned new things, and travelled with us to understand more about Myanmar and, of course, each other.
We are all hugely proud of what the show has achieved and look forward to what the next 5 years (hopefully!) have in store. But, for now, it's time to celebrate and raise a glass of – you guessed it – tea!
--
The Tea Cup Diaries is broadcast nationally on MRTV and Myanmar Radio, and is currently funded by the Norwegian Agency for Development Cooperation (NORAD). Previous funders are USAID, DFID and DAI.