As the world marks Youth Skills Day, we take a look at how a reality TV show empowered young people in Cambodia to secure themselves a better future. Around 300,000 young Cambodians enter the labour market every year, but they are often vulnerable to low wages, long working hours and/or hazardous working conditions. Many young people lack the soft skills and confidence they need to succeed, so "Dream Station" – which reached over 1.2 million viewers at its peak – aimed to inspire them.
"After my father's death, my dream was buried. I didn't tell anyone about it; I didn't think it was possible anymore," said Maya who had dreamed about selling wholesale water mimosa plants to her community.
"But when I saw other young people on Dream Station also face challenges on their journeys, I started to have hope in my dream again," the 24-year-old added.
The show inspired her confidence to ask her friends and neighbours for advice about her business plan.
People like Maya are exactly who we wanted to reach.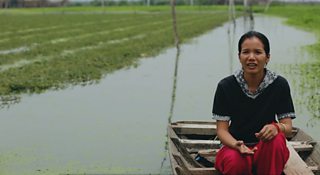 Maya dreams of growing 'kachet' and having her own business
A show with big dreams
Over two thirds of employed young people are in a vulnerable job. This can mean low wages, lack of access to social protection or job security, difficult or often hazardous working conditions, and being expected to work extremely long hours.
Our research showed us that young people needed to be equipped with a range of soft skills, including increased confidence and improved communication skills, to help empower them to understand their rights and improve their job prospects. We also discovered that people tend to learn more from role models and real-life examples because they believe they are real and therefore possible.
And so the idea of Dream Station was born.
Following the real lives of 10 young Cambodians in pursuit of their dream jobs, the reality TV show saw each "dreamer" meet experts and role models who equipped them with soft skills and gave advice.
"Being both a guide and a friend to our dreamers, I notice that they have a burning ambition inside them, but there's always something holding them back whether it's their low self-esteem or a lack of planning," said Saing Darareaksmey, an entrepreneur and the show's presenter.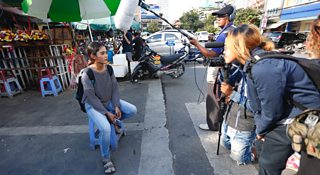 Demonstrating how soft skills can help people reach their goals was a fundamental aim of the programme. For some dreamers it means starting a conversation with their parents, while for others it means having a proper plan or simply knowing how and where to search for information.
The one common lesson learned by all of the dreamers on the show was the confidence to take the first step.
The show also included a series of 'how-to' animations on topics such as financial planning, decision-making, online marketing and start-ups to encourage viewers to act to improve their own lives.
And behind the scenes we learnt to expect the unexpected.
Beyond lights, camera, action
Reality is reality. We followed each dreamer's real-life journey which meant we had no control of the outcome. It was all real and spontaneous. It was an adrenaline rush both for the dreamers and for the TV crews.
When one of our dreamers collected her national exam result, we were on tenterhooks hoping she'd get good grades to enable her next steps. As others were applying for jobs, our teams were right there living it with them, willing them to succeed. And we had no idea what might happen next when others were negotiating with parents or customers.
Sometimes it was tough to watch but it showed the reality of the challenges young people face every day.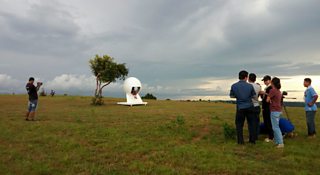 It's not common in Cambodia to see real lives broadcast on national TV or to see young people open up about their life challenges. Viewers in both rural and urban areas said they'd never seen anything like it before.
"When I watched Sreyrong's episode of Dream Station, I felt like I was with her too," said Reaksmy, a viewer in Sihanoukville. "The show is different from what I've ever seen before on Cambodian TV."
To young people like Reaksmy and Maya, witnessing someone's journey inspired them to reflect on their life choices and see something about themselves that they had not realised before.
Real life, real impact
It's been inspiring to meet many young people who did something different in their life as a result of the show. We know we've helped improve the skills and confidence for the many young Cambodians who have watched and engaged with Dream Station online.
Take Maya - her passion to achieve her dream was reignited. After watching the show she had the confidence to take her first steps with her business and, though she's not there yet, she's working to save money to get it started.
I spoke to a young man who told us that the show had inspired him to have the confidence to talk to his mother about changing jobs from a bricklayer to become a mechanic. He thought his mother would never allow it because of their family situation. He is now studying mechanics.
There are people sending messages to our Facebook page asking about business tips and how to find jobs through the National Employment Agency.
Now imagine what the other 1,185,000 total viewers have achieved after watching the show?
That's right – our dream has come true.
--
Monika Mey
Content Researcher, BBC Media Action, Cambodia
Dream Station is part of the Klahan9 multiplatform project designed to help young Cambodians seek decent employment and learn how to manage their money. The project is funded by the United Nations Development Programme (UNDP) and Sweden.