Main content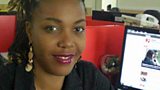 Ehizogie Ohiani
Producer/Trainer, BBC Media Action in Nigeria, Ehizogie worked for the Federal Radio Corporation of Nigeria for 10 years as a producer of programmes for women and families.
Blog posts in total 2
Posts
How radio is raising awareness about the lack of hygiene amongst the butchers of Benue State, Nigeria.

Five practical ideas from our trainer Ehizogie Ohiani in Nigeria about how to lead a training session with a difference.