Main content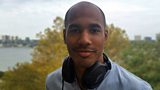 Sam Waterton
Digital Editor, BBC Media Action, Manager of the BBC Media Action website, blog, social media and newsletter. Formerly a media specialist at the BBC and Environment Agency. Tweeting @samwaterton.
Blog posts in total 3
Posts
Just 17% of profiles on Wikipedia are women. And even fewer exist in languages other than English. BBC Media Action teams in Nepal, Afghanistan and India joined a global edit-a-thon to help change the record as part of the BBC 100 Women season.

We catch up with Ross Bollinger, who introduces his latest cartoon series – helping people in Bangladesh respond to earthquakes.

Afghanistan is one of the few places in the world where polio still exists. Can a humble radio show help end polio for good?