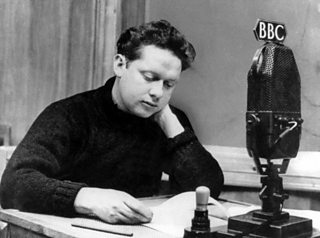 Dylan Thomas at the BBC, 1948
Archives are seductive spaces to any researcher. They offer the possibility of a new scrap of knowledge, the challenge of deciphering marginalia, and in the case of some early BBC memos, an encounter with unvarnished opinion.
Handling the Dylan Thomas Files in the BBC written archives at Caversham was a strangely emotive experience. I grew up near Laugharne, West Wales Thomas's final residence and championed as one of the inspirations for his famous radio play Under Milk Wood (1954). I visited the BBC Written Archives hoping for production notes to Thomas's broadcast feature on post-blitz Swansea, 'Return Journey to Swansea', produced by P.H. Burton and broadcast in 1947. When Thomas's files arrived at my desk the first thing I noticed was the bald black uppercase on the front 'DYLAN MARLAIS THOMAS- DECEASED'
Broadcast Beginnings
Thomas began his broadcasting career with a reading of 'The Hand that Signed the Paper' in 1938 on 'The Modern Muse', a programme which also featured poets Louis MacNeice and W.H. Auden. He went on to write or take part in over one hundred and fifty BBC programmes. Thomas worked mainly by commission, or for a speaker's fee. From the late 1930s onwards, the BBC also offered staff contracts to several of his contemporaries MacNeice, Rayner Heppenstall, D. G. Bridson and Geoffrey Grigson as poets, broadcasters, and producers. Thomas never received such an opportunity.
In Caversham I found out that the production notes were sadly, not in the file. However, there remained a detailed correspondence with the Welsh Home Service on the contract as well as recording times with producer Burton, these offered some leads. The article I ended up writing examines the history and practicalities of the collaboration between Thomas and his producer. It also explores how the radio feature works as a social commentary and creates a form of writing which I call a 'radio poetic'.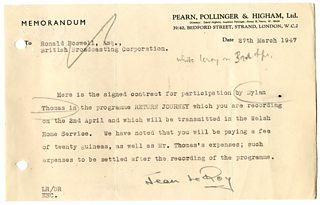 BBC Wales contract memor, 1947
Poetry and Radio
Looking at the evolution of Thomas's collected BBC radio scripts, one gets the sense of how the poet developed as a broadcaster. When I worked as an archivist at BBC Wales one of our most requested items was an early feature Thomas's Quite Early one Morning (1944). One can hear in this broadcast a prelude to the key characteristics we associate with Under Milk Wood. The feature plays with a sonic idiom, the geography of a sleeping town and omniscient narration. The latter was to become a crucial feature in the First and Second Voices of Thomas's Under Milk Wood.
For George Orwell broadcasting offered poetry an opportunity to return to ideas of performance and public address. He contends in 'Poetry and the Microphone' that poetry's engagement with radio releases it from print, offering freedom from 'that grisly thing – a poetry reading.' During my archive visits, I discover how the BBC navigated its relationship with poetry and poets. In 1943 the BBC attempted to address how poetry should be adapted to the radio by setting up an inter-departmental Literary Output Committee. One early memo from the Literary Output Committee proposes that radio should serve as a platform for new verse not only from Great Britain 'but from the Dominions and the Empire and a platform for which poets would willingly write poetry designed from broadcast and to be spoken aloud.' It was in this extensive global backdrop that Thomas's features and readings were commissioned, broadcast and circulated.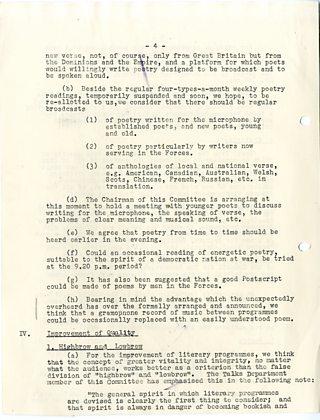 Literary Output Committee memo, 31 March 1943
Cleverdon and Thomas
One of my most important encounters at Caversham is the unpublished manuscript on radio The Art of Radio in Britain 1922-66 by Douglas Cleverdon. Cleverdon as the BBC producer of Under Milk Wood, coaxed and encouraged Thomas's final script. The history of partnership between producer and poet is detailed in Cleverdon's own account The Growth of Milkwood (1969).
Cleverdon went on to become an important force encouraging innovative radio writing from other poets. These included Henry Reed, David Gascoyne, Stevie Smith, George Barker, Ted Hughes, Richard Murphy and Sylvia Plath. I am currently investigating the archive for traces of Cleverdon's partnership with Plath in Three Women (1962). This production brought to the airwaves a challenging blank verse poem which addresses the experiences of birth, miscarriage and adoption.
In The Art of Radio, Cleverdon notes the Dylan Thomas had an 'unfailing instinct' for radio writing. Reflecting on the earlier feature 'Return Journey to Swansea' Cleverdon notes that the work is 'a masterly piece of ironic evocation', and that its success 'led to his being commissioned to write Under Milk Wood; but it was seven years before he completed it.' Thomas could be very dismissive of his radio work for the BBC, he references it in letters as 'blustering', 'hack-jobs', 'scriptlings', and 'radio-whinnie'. However, radio features gave the poet an opportunity to experiment with a form of poetic writing for radio. Reflecting on the 65
th anniversary of Under Milk Wood's first broadcast, it is clear that these earlier broadcasts were a testing ground for the key characteristics of his 'play for voices'.

Radio Times illustration, 24 Sep 1954
BIOGRAPHY
Nerys Williams is an Associate Professor in the School of Drama, English and Film at University College Dublin, Ireland. Her field of research is contemporary poetry in English, with a focus on American Poetry and Poetics. Her current research investigates the relationship between American poets and the BBC, in particular material broadcast on The Third Programme. She is particularly interested in the collaborations between poets and BBC radio feature producers.
Work Webpage: https://people.ucd.ie/nerys.williams/about
Work email: nerys.williams@ucd.ie