It's 1969. Harold Wilson was Prime Minister, Apollo 11 prepared for its historic mission to land men on the moon, the Beatles were top of the charts for 6 weeks with "Get Back" and the average weekly wage was £32. At the end of a decade which changed the world forever, two women working at the BBC were also pioneering change in an area where change was long overdue – sport.
Mary Raine and Patricia Gregory - two unsung heroes began blazing a trail that culminates at this year's FIFA Women's World Cup. But who were they, what did they do - and why?
Mary Raine – an early passion for football
Mary Raine was obsessed with football from her early days growing up in the North East. "I don't know how it all began, but I remember clearly my family took several newspapers. On Saturdays I would buy the Newcastle Evening Chronicle special "pink" (football) edition, and sometimes I was even able to get the Sunderland Evening Echo "pink'un". Sunderland is my team because my elder brother supported Newcastle United. He told me I couldn't support the Magpies as that would be being a copycat. At my smart school my housekeeper banned me from having pictures of footballers on my desk and tried to confiscate my football books and magazines, as soccer was not considered "suitable" at a public school.
After university at Oxford and teaching jobs she joined the BBC in 1966 as a humble newsroom sub-editor. Though mainly interested in foreign affairs, she was always discussing football with the likes of football correspondents Brian Moore and Bryon Butler in the Sports Department. She was usually asked to write any football stories for the news bulletins.
Audio of Mary Raine's first football commentary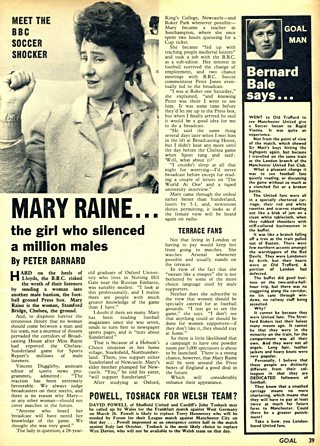 Goal magazine article on Mary Raine, 1969
The first woman to report on sport for the BBC
Following some encouraging words from legendary radio commentator Peter Jones, Mary was eventually sent to report on the Chelsea-Sunderland league game in February 1969 for radio's Sports Report. Describing the London team's 5-1 win she became the first woman to report on sport for the BBC. Her broadcast that Saturday afternoon caused newspaper headlines across Fleet Street, favourable reviews both inside and outside BH and even a feature in "Goal" magazine headed "Meet the BBC's soccer shocker".
More was to come the following season. Mary was sent to Wembley to report the FA Cup final for Radio 4's 6pm news. "It was simply a big wheeze by the Newsroom Editor of the Day, possibly Peter Woon whom I got on well with, for the main bulletin that day" chuckles Mary. "They thought it would create a bit of a sensation, which judging by the front page of the Sunday Times the following day, it did. Imagine! There I was splashed right across the headlines, "Raine of the BBC......" But while the Home Service used her report the editor of the Light Programme bulletins on the other side of the Newsroom refused, and used the Sports Units report instead. He told her "I cannot possibly use a report by a woman on the Cup Final".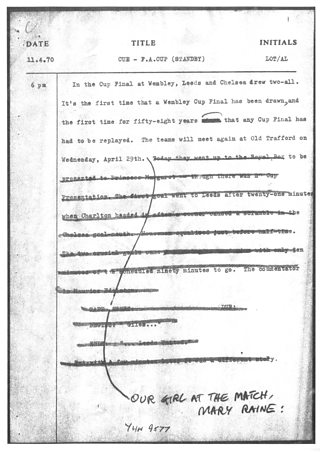 Original cue from the 6pm news on Radio 4 for Cup Final day, 1970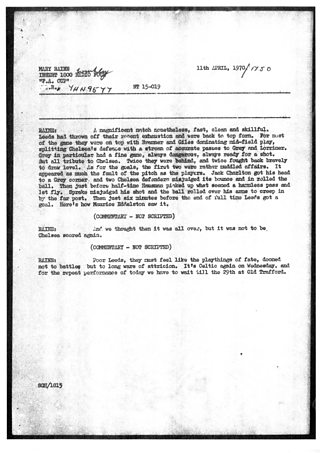 Mary Raine's Cup Final radio package, 1970
In 1972 she moved to the BBC World Service newsroom based in Bush House. Again she became known for her soccer mania, and inevitably wrote stories about football. Later she became editor of a big department providing scripts for the BBC's foreign language broadcasters. As the boss she felt free to produce scripts on football stories, but knew well that some services would never use a script written by a woman "except for the Latin American Spanish service, who were staffed by militant feminists". So she devised a cunning plan - to issue them under the names of two men colleagues. "My favourite aliases were John Wilson and Alan Jones, who sounded sporty. Luckily they didn't mind, except when they got occasional calls about something in one of 'their' sports scripts". Mary graduated to become one of the editors-in-chief, sitting on the management board, while all the time doing football scripts on the side as "John" or "Alan". She was never rumbled.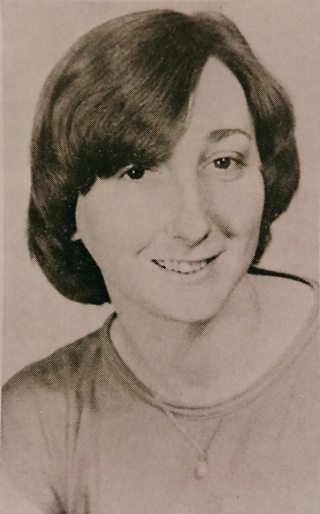 Patricia Gregory in the mid-1970s
Patricia Gregory and the Women's FA
Around the same time Patricia Gregory was also starting to make her mark in football, in similar unsung fashion to Mary Raine but in a different area of the game. Like many others she'd been excited by England's 1966 World Cup victory, then the FA Cup win by Tottenham the following season. Watching Spurs parade the famous trophy around north London she wondered why women couldn't play "the beautiful game" too. The reason? It had effectively been banned since 1921 by the FA, worried by the attention and the crowds that had followed it back then.
Undaunted, Patricia wrote a letter about women's football to her local paper and received several replies about playing. Having set up a team, she needed others to play against. "My Dad was quite traditional; he was against me getting involved in all this. However, he completely changed his mind when the local council told me I was not legally able to rent a local pitch for matches against other women's football teams". She eventually managed to get a pitch and ended up running both it and a women's football league. Then in 1969 she was instrumental in setting up the Women's FA as the game's governing body.
She was organising all this and overseeing the general expansion of the women's game while holding down a full-time job as a secretary in the BBC's Sports Department which she had joined in 1970. Life was hectic. "I used to work at BBC Sport all day, travel to my parents' home, have my tea then go upstairs to my room and start work on all the league and game's administrative duties. I also wanted to learn the rules properly, so I enrolled on a referee's course. We were then told by the FA that any fully qualified women referees could only referee women's games".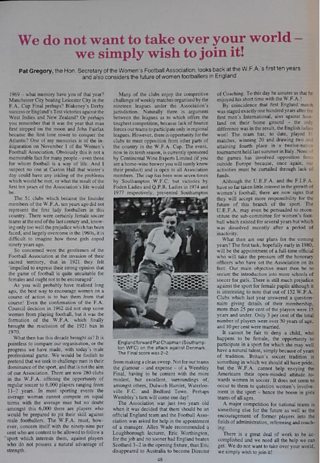 An article Patricia Gregory wrote for the Winter 1980 edition of FA Today
They'd been expecting a man called Pat Gregory
Despite all these hurdles, Patricia oversaw the growth of the WFA while developing her career firstly with BBC Sport, then joining ITV in 1978 as their first Network Sports Coordinator. "My new colleagues were shocked when I walked into their sports office", she jokes. "They told me they'd been expecting a man called PAT Gregory!". She returned to BBC Sport in 1993, ironically the year the FA finally assumed their role as governing body of women's football, until retiring in 2010. Patricia's contribution to women's football in the UK is recognised in an exhibition at the British Library in London entitled An Unsuitable Game for Ladies: A Century of Women's Football, which runs until September 1st. She sourced and supplied many WFA papers from the sixties onwards as exhibits.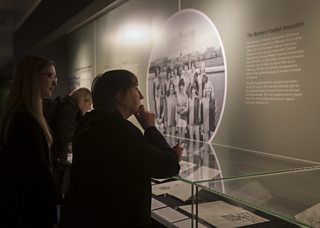 Patricia Gregory at The British Library, 2019
Mary and Patricia both worked at the BBC at the same time, both managing to exercise their passion for football while doing their "proper" day jobs, yet remarkably they never met nor knew each of each other's existence. They'll surely be reflecting on what they helped start while they follow events in France this summer. The premier tournament in the women's game will be featured heavily across the media and covered for the BBC by a sports team including Eilidh Barbour, Vicki Sparks, Alex Scott and many other women sports broadcasters. Aliases will definitely NOT be needed.
Charles Runcie is a former Head of Sport for BBC English Regions
charles@charlesruncie.co.uk