A misty morning in 2014 found me at the gates of the BBC Written Archive at Caversham. This was to be the first of many visits over the next few years as I explored the archive's holdings relating to jazz programming during the 1960s. In this blog post, I detail my journey through the archives, how that experience led me to interview BBC staff who worked on the programmes, how I commandeered a TV studio in my university to recreate a 1960s jazz show and – most unexpectedly this year – how I ended up working on BBC4's revival of Jazz 625 (Friday 3 May, 9pm).
Jazz 625 (1964-1966) was BBC2's flagship music programme, making up part of its first week launch schedule. Its distinctive name alluded to the crisp 625-line UHF images rolled out on the second channel. Over the course of two years, 84 episodes were made, bringing together the best of overseas talent with an impressive roster of British musicians. Produced by Terry Henebery, who had worked on radio jazz programmes from Aeolian Hall during the 1950s, Jazz 625 became known for its serious yet dynamic presentation of the music, combining striking images with superb sound balance. It was followed by other, equally interesting programmes – e.g. Jazz Goes to College (1966-1967), Jazz at the Maltings (1968-1969) and Jazz Scene at Ronnie Scott's (1969-1970), all produced by Henebery – yet it is Jazz 625 that has lodged in the popular memory. Unlike the later programmes, much of Jazz 625 has survived in the archives due to the practice of 35mm telerecording.
The archive
Jazz myth-making would have us believe that television cameras are mere witnesses to improvised genius. The production files held at Caversham tell a different story. Lists of technical requirements, set diagrams, production schedules, memos on sound quality and repertoire all demonstrated clearly the meticulous preparation and mediation undertaken by BBC crews. I was particularly intrigued by the camera scripts, many of which went bar-by-bar tracking camera movements to musical performances and which were heavily annotated in handwriting, adjusted and perfected throughout camera rehearsals up until the point of recording.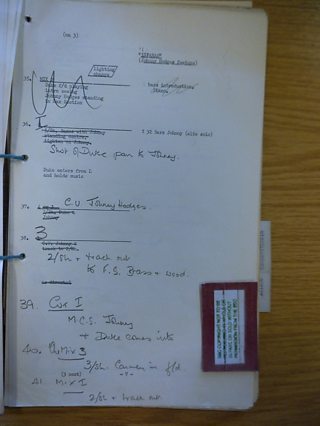 Camera scrip for Ellington in Concert, 21 Apr 1964, drawn up by director Yvonne Littlewood. Terry Henebery credits this script as setting the template for Jazz 625's style.
Ethnography
I was conscious, however, that the archive could only tell me so much. The generous award of a fellowship from the Arts and Humanities Research Council (AHRC) allowed me to interview some of the people who had worked on, played on or attended the recordings of these programmes. I was especially interested in the everyday experience of television-making: the challenges and pleasures of working as a sound supervisor, carpenter, vision-mixer or musician in the TV studio or on an Outside Broadcast (OB). These anecdotal insights built up a rich picture of the complexity of music television production.
Sound supervisor Graham Haines waxed lyrical about Jazz at the Maltings, shot in Aldeburgh, nominating this (largely wiped) series as his favourite of the 1960s shows; grams operator Pat Heigham mischievously recounted finding a glamour magazine on the music stand of one of Duke Ellington's soloists, and paid tribute to the skill of his colleague Len Shorey; pianist Laurie Holloway, so accomplished in his performance on the Clark Terry-Bob Brookmeyer Jazz 625, admitted that he had been terrified sharing the stage with these US heroes. Alan Flood and John Weston, who had attended recordings of the episodes as teenagers, recalled that the cameras had been unobtrusive throughout – a testament to the professionalism of the BBC crews.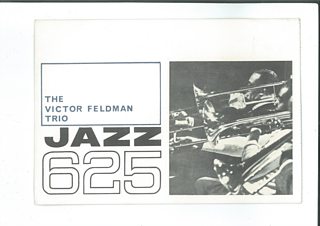 Audience ticket for recording of The Victor Feldman Trio at The New Marquee Club, Wardour Street, 14 Feb 1965, tx 2 Jun 1965. Property of John Weston.
The studio floor and the production gallery
There was one missing element in my research. While my interviews had brought me closer to direct experience, I wanted to go through the process of production myself. This 'practice-as-research' element would test the way I was conceiving of television, as a collaboration between complementary orders of expertise (musical, technical, institutional) in the service of artistic creation. Studio A at Birmingham City University became the venue for a remounting of Jazz 625, renamed Jazz 1080 by our director Mark Kershaw to reflect the digital technology we were using. Our aim was not to mimic Jazz 625 but rather to use archive documentation as a roadmap to shape our own vision. The TV studio became a laboratory, a space in which I could observe and record the micro-interactions between our core ex-BBC crew and the larger BCU student crew, between crew and musicians, between musicians and audience. We recorded as live, vision-mixed as live, in front of a live studio audience – and we did it all across two days, just as the BBC had in the 1960s.
Jazz 1080, The Xhosa Cole Quintet. Arts and Humanities Research Council/Birmingham City University. Xhosa went on to win BBC Young Jazz Musician of the Year 2018.
In the week that we made Jazz 1080 at BCU, I was invited down to Broadcasting House. Adam Barker (BBC4) and Jez Nelson (Somethin' Else) had hit upon the idea of reviving Jazz 625, for one night only. Just as Henebery had taken advantage of US musicians touring the UK, this production would deploy some of the stars playing Cheltenham Jazz Festival. After my university experiment in jazz television, it was tremendously exciting to be applying my research to a genuinely new episode of Jazz 625 on the BBC. As the programme's research consultant, I worked with producer Chris Walker on the VT documentary packages to be dropped into the live broadcast. Unlike previous repeats and clip-shows, this broadcast would acknowledge Jazz 625 not just as landmark music television but as a milestone in BBC history. A personal highlight over the course of production was the interview that we conducted with Terry Henebery, architect of the programmes I've spent years researching.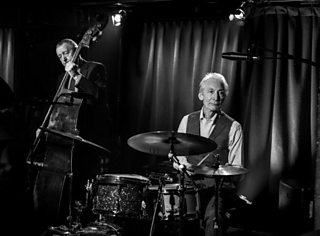 Dave Green and Charlie Watts in Jazz 625: For One Night Only (BBC 4/Somethin' Else)
The future
The great luxury of making television as a way of researching television has decoded my original archival findings in a new way. As a researcher, I have a better understanding of the pressures of a production timescale and the way in which BBC documentation drove pre-production. What happened behind the cameras was as impressive as what happened before them – the work of the director and vision-mixer on a live broadcast is in itself a virtuoso improvisation, responding to the creativity of musicians on the studio floor. I've come to see Jazz 625 as an experiment in broadcasting, a discursive exploration of what jazz meant to the nation at a time that it was becoming culturally elevated. Friday's BBC4 programme is the next chapter, an opportunity to see what jazz means in the televisual landscape today.
Jazz 625: For One Night Only will be broadcast on Friday 3 May at 9pm, BBC4.
It will be presented by Andi Oliver and showcases performances by Gregory Porter, Joshua Redman and Jacqui Dankworth.
Dr Nicolas Pillai (Birmingham City University) is the research consultant for BBC4's Jazz 625: For One Night Only. He is co-editor of Jazz Research Journal and the author of Jazz as Visual Language: Film, Television and the Dissonant Image. His current research project Jazz on BBC-TV 1960-1969 has been funded by the Arts and Humanities Research Council.
To find out more about 1960s jazz television, visit the Jazz on BBC-TV 1960-1969 project website: www.jazzontelly.org