How can arguably the first significant woman current affairs broadcaster in the decade or so after the Second World War be virtually unknown today? All too easily. Were it not for the files in the BBC Written Archives Centre (WAC); the back issues of the Radio Times held by the British Library, and a personal archive in Oxford, the full extent of the contribution by Honor Balfour (1912-2001) would slip through the historical narrative. Except for a passing reference in the memoir of the formidable BBC producer, Grace Wyndham Goldie, Honor's name is missing from published accounts of the time, possibly because she was not a BBC "staffer" but contracted to contribute to various programmes. Her journalism as the London correspondent for Time magazine- her main occupation, and for the Guardian and the Observer have also fallen into undeserved obscurity.
In our conversations in the 1990s Honor spoke about her founding role at Picture Post magazine but said little about her broadcasting career; mentioning only two radio programmes from the later years, The Weekly World and Whatever you think, the latter chaired by Cliff Michelmore. Her archive in the Bodleian contained some clues: entries in appointment diaries; various talks' scripts.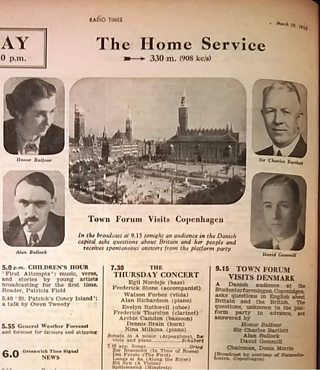 Detail from Radio Times magazine for March 10, 1950. Both Honor Balfour and Alan Bullock became regular panellists on topical issue programmes
The emergence of Current Affairs broadcasting
So the files in WAC were a revelation. Here were not only Honor's personal files but also those for programmes to which she contributed. They transport us back not just to the birth and development of her career but the emergence of current affairs broadcasting and the struggles of the producer Stephen Bonarjee (1912-2003) to establish new programmes such as Topic for Tonight, broadcast five nights a week after the 10pm news on the Light Programme (now Radio 2),and Home and Abroad, broadcast twice week on the Home Service (now Radio 4) at 9.15pm.
Home and Abroad was on the surface the more significant programme: it ran for thirty minutes and is regarded as an early forerunner of the Today programme, while Topic for Tonight was just over four and half minutes. However, Topic is possibly more intriguing because of the insights it provides into the BBC's strategies for reaching the target audience, many of whom had left school at 14 or 15; and for briefing them about issues of the day.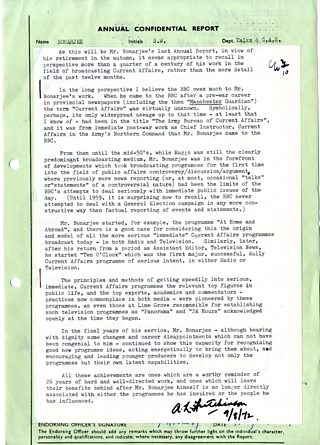 Extract from Stephen Bonarjee's final Annual Report, August 1972.
From Bonarjee's recently released 1980 BBC oral history interview we know he wanted professional journalists rather than pundits for Topic. A rota for the dozen or so speakers on the panel was drawn up. Honor made her debut on 22 March 1949 with a talk on 'Privy Council Makes News'; followed by two more in May. After the summer break she returned on 11 October with 'How Party Conferences work'; delivering three more talks to the year's end. Honor was already a regular contributor (from January 1947) to the current affairs slot on Woman's Hour (then broadcast in the afternoon) but this was a more mainstream audience. At a time when women's voices were judged unsuitable for reading the news Honor- and one or two others like Margaret Stewart and Honor Croome were tackling challenging, if sometimes dry, topics which had often featured in the earlier news bulletins. Honor remained a contributor to Topic after its rescheduling in 1958 to the early evening Roundabout. She also appeared on the Home Service's Ten O'clock (the latter the forerunner of The World Tonight).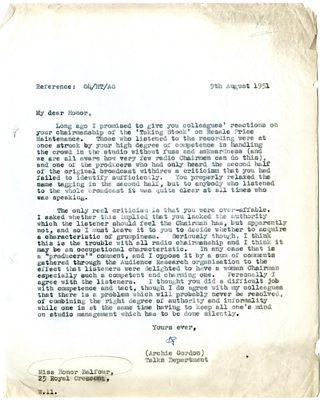 Archie Gordon relays the feedback from colleagues and the audience on Honor's chairing of a discussion, August 1951.
Breaking into TV
Her break through into television had come in 1951 when she chaired a discussion on marriage law reform for Women's Viewpoint, broadcast at 3pm. One contributor, Doreen Gorsky (1912-2001), president of the Women's Liberal Federation, would later, under her maiden name Stephens, carve out a career as a producer in women's television. Again, WAC's files proved invaluable. Initially using them primarily to learn more about the environment in which Honor worked in the mid-1950s when twice a month her eponymous 'Round Up' served as a quarter hour coda to the women's afternoon television programmes, I was drawn into the struggle of Stephens to wrench resources from the head of television, the highly critical Cecil McGivern, and to innovate and survive against the odds.In her 'Round Up' pieces Honor tackled a wide range of issues from 'Loneliness' to 'Shop Hours Bill'. A tight budget obliged her to do much of the pre- broadcast work herself, even hosting lunches for contributors in the Time-Life building.
Stephens' career in broadcasting also partly answered a question which has occupied me since my earlier research into Honor's political career in the 1930s and 1940s: what did Liberals like Honor, once very active in the party, do in the years after 1945 as its fortunes declined? For Honor it meant continuing as a journalist. Aged sixty she was obliged to retire from Time in 1972 but her last broadcast was in May 1979.
Interviewed by Brian Redhead on Countdown to No 10, her assessment of Margaret Thatcher was prophetic. Indeed, writing in her diary at the time of her election as party leader, Honor had welcomed Mrs Thatcher's success as the first woman in the West to reach such heights, but she also saw that Mrs Thatcher needed to match her intelligence and skill with requisite compassion and humanity.
With thanks to Immediate Media; St Anne's College/Bodleian Library, University of Oxford.
Helen Langley is a historian, writer and former manuscript curator. She is currently researching an article on Honor Balfour's career in journalism for the Journal of Liberal History a companion piece to her 2013 article on Honor Balfour's political life. She contributed a guest post to the UKvote100 blog https://ukvote100.org/2018/12/17/honor-balfour-westminster-and-a-womans-voice/
info@helenlangley.co.uk