In November 2020, the BBC Written Archives Centre turns 50, but thanks to Covid-19 it's not the celebratory year we would have wished: our reading room has been closed to researchers and we've had limited staff access to the office and stores. Despite the challenges 2020 has thrown our way, we have reached one of the most significant milestones in our half-century: for the first time, you can begin to explore the Written Archives online. Yes. Online. And about time too, you may say, and we can only agree! But before you dive in, let me tell you more.
The BBC Written Archives Centre has joined the Archives Hub, gateway to the UK's archive sector and everyone, from anywhere, can now get an overview of the scope and coverage of our holdings and even understand how the archive has been built over the last 50 years. To be clear, it's not the whole archive, and doesn't yet display every collection or series and doesn't include all the sub-levels. Building an online catalogue from scratch and from mostly hard-copy lists and search tools is a huge undertaking, but what we have done is get to a "critical mass" – where you can see the core structure and higher-level descriptions. It's a point from which we will continue to build. You can find us on the Archives Hub here.
You'll find a summary of the corporate records of the BBC here.
There's a summary of the collections held in the archive donated to or acquired by us here.
When you're in the Hub, do use the 'Email the Repository' link on each page to get in touch with us if you have queries about a specific entry. You can find the full details about arranging a visit to view the material at our website.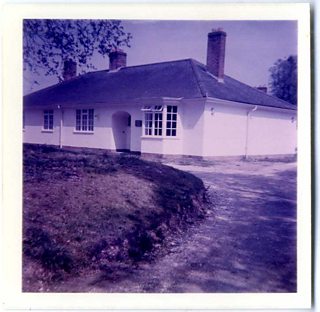 The BBC Written Archives in the 1970s
Building the Online Catalogue
The Written Archives Centre has been at its Caversham site since 1970 and the collections have been steadily growing since we arrived.
Each file was originally logged by hand in an accession book, eventually superseded by a (now aged) internal electronic database containing over 250,000 entries (or around 20% of the collection) with each entry giving only brief details about an archive file. However, it's not a modern tool for search and discovery and there's scant detail on the content of files or the overarching collections in which they are contained. The remaining 80% of the older collection is only searchable through hard-copy shelf lists, including the much consulted and often very rich personal files for contributors to BBC programmes.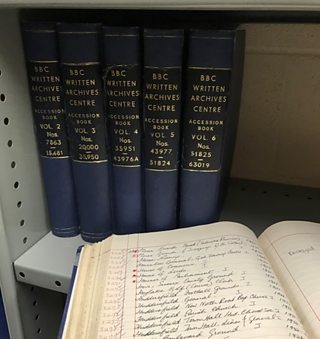 Accession Books hold more detailed information on the provenance of the files
Over the last few years, a project has been underway to upgrade our cataloguing system, in a way that can incorporate the old data, but also use a new system to add a host of extra details about the records and display them (both to BBC staff and the general public) in a way that is informative and easy to interpret.
It's a large scale project, as the data in the old system requires a thorough review before it can be migrated to the new one. Each file needs to be checked to make sure its title is accurate and its metadata has been entered consistently. This has been perfect work to do from home during lockdown and has kept many of us busy, meaning we've made great progress in this area.
Other staff members have been using hard-copy lists of files to prepare new entries for material that has never had a database record. For this work, we've prioritised our runs of the personal files for contributors to BBC programmes, containing correspondence and the contracts for their BBC work which we know are some of the most useful and content-rich sources for our research community.
So far over 70,000 new entries have been created and added in this way, but this only covers radio contributors up to 1970 and television contributors to 1962 – so there are plenty more to go!
A Research Resource
But when will this more in-depth and detailed information down to the lower levels be available to view outside the BBC? The Archives Hub will have more added, but the size and complexity of the Archive means that our ambition is to make the fullest information available on our own BBC site. Creation of new catalogue entries and migration of old data continues daily and when the new system contains a significant amount of data we plan to open up the catalogue for general use by making it available through the BBC Archives website.
In the meantime, we hope you enjoy exploring our Hub descriptions. And we look forward to opening our doors again in the not-too-distant future, so we can get back to providing a research service that enables our users discover more fascinating material that's waiting in the archive.
Don't forget that while we are closed you can still access a range of written archive content online:
The Featured Collections page on our website showcases a selection of documents that tell 'behind-the-scenes' stories of BBC programmes, people and events.
The History of the BBC website regularly adds newly digitised archive documents.
You can use the Genome Project to search digital listings sections of the Radio Times 1923-2009.
The Listener is available digitally for use by academic institutions with the appropriate subscription.
And to watch or listen to archived BBC programmes, the recently-created BBC Programme Explorer gathers together a huge selection of content that is available online from a variety of sources across the BBC.
Biography
Matthew Chipping is the Archive Collections Manager responsible for the catalogue project at the BBC Written Archives Centre. The project aims to build and develop an overarching collection management and discovery tool to increase the accessibility of the Archives' holdings and unlock their potential for academic research, both within and outside the BBC. matthew.chipping@bbc.co.uk