Main content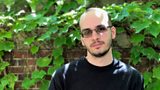 Michael J Abolafia
Writer, editor & archivist, Michael J. Abolafia is a writer, editor, and archivist based in New York City. A 2017 graduate of Columbia University, he has contributed essays to the Times Literary Supplement, the New York Daily News, and Brooklyn Magazine. The reviews mentioned in this article will appear in the Elizabeth Bowen Review and A Sort of Newsletter, published by the Graham Greene Trust.
Blog post in total 1
Posts
Writer and archivist Michael Abolafia explores the files at Written Archives and uncovers a cache of book review articles written by luminary literary figures from the 1930s and 40s.