ARENA NEWS WEEK: Frank Maloney, George Orwell Museum and Giant Panda Tian Tian
FRANK MALONEY REVEALS GENDER REASSIGNMENT
Former boxing promoter Frank Maloney comes out as Kellie after gender reassignment
Kellie Maloney is the new name of former boxing promoter Frank Maloney who has revealed he is undergoing gender reassignment. Maloney, best known for guiding Lennox Lewis to the world heavyweight title in 1993, says "I was born in the wrong body and I have always known I was a woman". Kellie admitted she didn't feel able to come out whilst working in the boxing industry and would not have been able to do the job as a woman.
Whilst this is a new phenomenon for the boxing industry, it has long been part of the vibrant and diverse culture of cities such as San Francisco. In 1992, Arena interviewed the American author, playwright and gender theorist Kate Bornstein who received sex reassignment surgery in 1986. She recalls her first encounter with the works of Armistead Maupin, who's famous novels 'Tales Of the City', set in San Francisco, were pioneering in their representation of gay and transgender characters. San Francisco has always had a reputation as a city for tolerant attitudes, and Bornstein explains her move to 'the city' and the way in which Maupin's characters and writing gave hope to transsexuals like herself.  
Kate Bornstein interviewed for 1992 film on American author Armistead Maupin
 Arena: Armistead Maupin Is a Man I Dreampt Up (1992). Directed by Kate Meynell, Series Editor -Anthony Wall
GEORGE ORWELL'S BIRTHPLACE BECOMES MUSEUM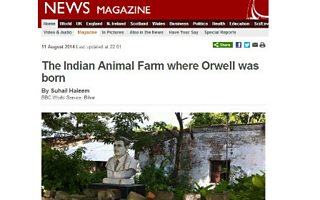 Orwell
The birthplace of George Orwell is in a north eastern Indian town where he spend the first year of his life, before moving to Henley on Thames.  This region was originally poppy country and Orwell's father worked for the opium department of the British government overseeing the production and storage of the drug before it was exported to China. More than a century after Orwell's departure, the colonial style bungalow where he was born is being turned into a museum.
George Orwell, christened Eric Blair, left Eton at 18 and enrolled in the imperial military police in Burma, having always had a fascination with 'The East'. His friends and family were mystified at his decision to enter the Burmese police force rather than the Indian civil service, but it was here that he wrote the novel 'Burmese Days' published in 1934. Orwell's harsh portrail of colonial society details the waning days of the British empire when Burma was ruled from Delhi as part of British India. Arena interviewed those who knew Orwell in his early days for the 1983 documentary, seen here discussing his life and work in Burma.  
Arena looks back at Orwell's life and work in Burma
 Arena: George Orwell - Such, Such Were The Joys (1983). Directed by Nigel Williams, Series Editor - Anthony Wall
 GIANT PANDA TIAN TIAN SUSPECTED PREGNANT
BBC News reports on the pregnancy of giant panda Tian Tian
Edinburgh Zoo believes its panda Tian Tian is pregnant and may give birth later this month. She was artificially inseminated earlier this year after attempts to bring her together with male partner, Yang Guang, failed. If Tian Tian is pregnant, it will be the first time a giant panda has been born in Britain.
Perhaps Britain's best known giant panda was Chi Chi, London Zoo's star attraction from 1958 until her death in 1972. She was bought from China by the animal dealer Heini Demmer to the West after being refused entry to the USA because of a trade embargo on enemy goods to the country. As a result, she toured the European zoos hoping to find a home before settling in London. Chi Chi, an instant celebrity as a victim of the Cold War, made front page news around the world and became Britain's best loved zoo animal. Visit the Arena Hotel on the link below to see a snippet from Arena's 1992 film on the life of Chi Chi and how she came to be immortalised at the natural history museum.
 http://www.arenahotel.tv/films/chi-chi
Check into the Arena Hotel to see what else is in store....http://www.arenahotel.tv/floors/lobby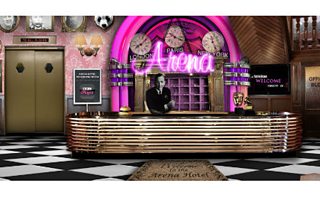 Hotel