Obituary: Carolyn Cassady (1923 - 2013)
Writer and photographer Carolyn Cassady, born on the 28 April 1923, died last week on 20 September 2013. The American writer was associated with the Beat Generation through her marriage to Neal Cassady and relationship with Jack Kerouac. Kerouac's most famous novel On The Road (1957) was based on the cross country journey he made from New York to California with Neal Cassady – depicted as Dean Moriarty in the novel. The character Camille, continually abandoned by Moriarty in San Francisco, was based on Carolyn, who at the time was looking after the first of her and Neal's three children.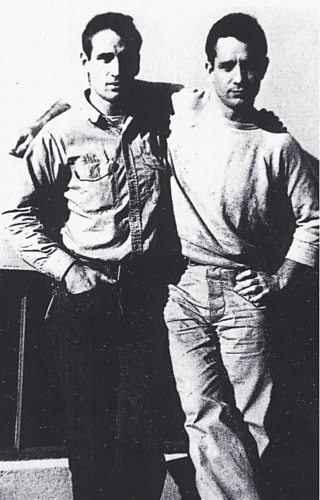 Carolyn Cassady Postcard Photo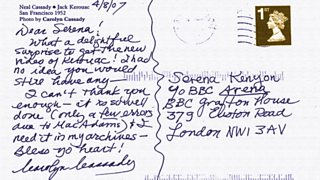 Carolyn Cassady message
In 2007, Carolyn Cassady sent this postcard to Arena after receiving a copy of the film Arena: Jack Kerouac, directed by Lewis MacAdams and Richard Lerner. The photograph, taken by Carolyn in 1952 shows her 'two husbands' Cassady and Kerouac.
Arena: Jack Kerouac was made in 1988 and profiled the life and death of the Beat writer. The film was mainly shot and produced in the US at a time when Carolyn Cassady had relocated to the UK. As a consequence, Carolyn was overlooked in the initial version but Arena tracked her down as a key witness to this influential period.
She recalls the spring of 1952 when Jack Kerouac stayed with the Cassady's while writing On The Road and Visions of Cody. It was during this time that her relationship with the two men became ever more complex. The photographs featured in this clip were taken by Carolyn throughout this period.
Carolyn Cassady discusses relationship with Jack Kerouac and husband Neal Cassady.
Arena: Jack Kerouac (1988). Directed by Lewis MacAdams and Richard Lerner. Series Editors - Anthony Wall and Nigel Finch.