Main content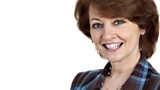 Anne Diamond
Blog posts in total 83
Posts
Choirs are blazing like wildfire in our patch - literally hundreds of local people are joining them.

Well done to all our local garden designers who seem to have won yet another batch of gold medals!

If you are the mother of boys, should you be worried about how often you will see your grandchildren?

Anne writes about Bigfoot" lady celebrities.

Treats and confections are shrinking in size whilst not shrinking in price. It's given us a whole new word – "shrinkflation".

I've spent years weaning myself onto skimmed milk. Was it all a useless crusade?

The Royal mail have a new idea to make use of our neighbours.

How much have you had to alter your house to get it sold? Have you had to paint all the walls magnolia?

Going back to the days of the kitchen with no fridge – and eating the National Loaf.

Anne has met a really remarkable and inspirational young man who's a shop supervisor in Slough, but who should have a new career as an ambassador for adult literacy!

Just one woman in every ten now stays at home to bring up the children.

Dame Judi Dench admitting that she's badly losing her eyesight, due to macular degeneration, but is there any chance of a cure?

Science has a human side, it's all about family.

Anne catches up with the parents of the first ever sextuplets, 30 years on.

How Anne is drinking her way to a healthy mind

Bins are taking over our neighbourhoods.

Is a Pink van a good idea to interest Women in politics?
Previous

1