MENTAL CHANNEL NUMBER ONE - THE MAN FROM MARS
To celebrate today's successful landing on Mars I thought I would show a film of a man who claimed to have got to Mars a long time ago. He did this back in the late 1950s by communicating telepathically with the beings who inhabited the Red Planet. He also claimed that his mother went there on a UFO. And what's more the BBC took him very seriously.
He was called George King. He was a London taxi driver who back in 1956 had a strange experience. He was washing the dishes when he heard a voice which said
"Prepare yourself. You are about to become the voice of Interplanetary Parliament"
As a result, George King founded the Aetherius Society - which still exists today. His aim was to spread the messages that he received from what he called The Space People.
In 1959 the BBC made a half hour programme about Mr King, his strange cosmic experiences and his ideas. It is one of the most wonderful, odd and touching films I have ever found in the BBC archives.
Here is Mr King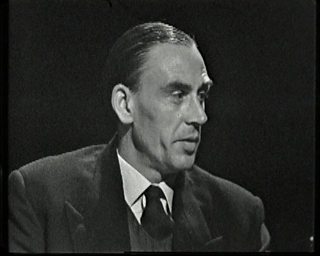 George King is allowed in the programme to describe what happened to him at length - and the interviewer takes him completely seriously. The result is extraordinary - Mr King tells how the space people have given him a name - they call him "Mental Channel No. 1", how he has met people from Mars, Venus and Saturn and has "telepathic rapport" with them.
The interviewer then asks for proof that he really has met these people. George King says that his mother has proved it. She did this, he says, by being picked up by a UFO and then travelling through space to meet one of the people who regularly communicates with him.
So that proves that - he says.
And they then play the tape recording of his mother describing her interplanetary flight.
And then it gets weirder. The interviewer asks George King to contact - and channel - one of these beings. And he agrees. What then happens is just brilliant.
The film begins, appropriately, with Mars speaking to Earth. It ends - as all good programmes did in those days - with a Jungian consultant psychiatrist assessing George King's claims