This is really just an excuse to show a wonderful film about vegetables.
But it is also about how modern science has radically changed in a way that hasn't been fully understood.
How it has gone from promising extraordinary new worlds of the future - to become a powerfully conservative force that holds progress back and tends to keep people in their place.
And the odd role vegetables have played in showing how this has happened.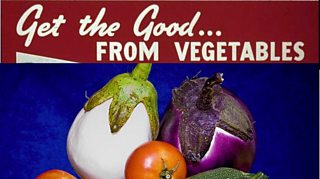 There are two - parallel - universes of science. One is the actual day-to-day work of scientists, patiently researching into all parts of the world and sometimes making amazing discoveries.
The other is the role science plays in the public imagination - the powerful effect it has in shaping how millions of ordinary people see the world.
Often the two worlds run together - with scientists from the first world giving us glimpses of their extraordinary discoveries. But what sometimes happens is that those discoveries - and what they promise - get mixed up with other social and political ideas. And then the science begins to change into something else.
This happened in a dramatic way in the second half of the twentieth century. Science did very well in the second world war and after the war ambitious scientists promised they could build a new kind of world.
But by the 1970s it became clear that there were unforeseen consequences. It started with chemical pollution - especially DDT killing wildlife. But it was nuclear power that really broke the faith in the optimistic view of science - with the disaster at Three Mile Island in the US in 1979.
What emerged instead was a powerful distrust of the idea that science and technocratic experts could make a better world. Here is a good example of that new mood. It's an anti-nuclear rally held in New York after Three Mile Island.
Jane Fonda makes a celebrity appearance - and her interview articulates the mood very well. I also love the protest song at the end.
"Just give me the restless power of the wind
Give me the comforting glow of the wood fire
But please take all your atomic poison power away"
But if the scientists had been naive - so too was much of the counter-reaction.
The truth was that it might not have been the science itself that was at fault - but the way the science had been distorted and corrupted by the economic and political demands made on it.
Here is a section of a film I made about what went wrong with the building of the first big nuclear reactors. It shows how the companies building them - like General Electric - were under enormous economic pressure and political demands because of the cold war. And the technologists designed giant systems they knew were potentially unsafe.
Then came the Chernobyl disaster in 1986. All the distrust of big science that had been building up exploded out - and science became the problem. Not the solution any longer.
There was one man who articulated this new view of science very powerfully. He was a German political scientist called Ulrich Beck who wrote a book just before the Chernobyl explosion called Risk Society. In the wake of the disaster it captured the public imagination - and has been incredibly influential on social and political thinking in the west ever since.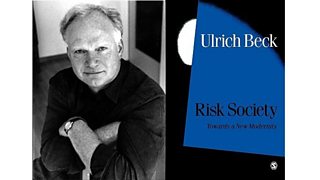 The book was powerful because it laid out a new way of looking at the world. Beck said that what the scientists and technologists had been doing with these giant projects was not building a new and glorious future. Without realising it they had been doing the opposite - they had been creating enormous new dangers for the world.
Beck used the word risk. The scientists he said had been "manufacturing risks".
In the past the big risks to human societies tended to be freak events of nature - like earthquakes and volcanoes and storms. But now the risks came from human ingenuity and ambition. Much of what had been created had potentially world-threatening side effects - like atomic fallout and ecological disasters.
The world had been turned upside down. It wasn't nature that was the real threat to human existence any longer - it was now human science and technology that had the power to destroy nature and the whole of the planet. And it wasn't going to stop - this was a new and growing danger.
It meant - Beck said - that the whole role of politics would inevitably change. In the past politicians' main aim had been to create a more equal society. That was now in decline. In the new "risk society" their main focus should be to create safety.
Beck didn't mince his words:
"Whereas the utopia of equality contains a wealth of substantial and positive goals of social change, the utopia of the risk society remains peculiarly negative and defensive. Basically, one is no longer concerned with attaining something 'good', but rather with preventing the worst.
The dream of the old society is that everyone wants and ought to have a share of the pie. The utopia of the risk society is that everyone should be spared from poisoning"
That was written in 1986 - and it is remarkably prescient. Because that short paragraph pretty much describes the present day mood in our society. A world where individuals are constantly calibrating risks in their lives, while politicians are expected to anticipate and avoid all future risks and dangers.
And everyone gives up on the idea of creating equality, which allows inequality to increase massively.
Beck's book is extraordinary - because he came from the liberal left. Yet he is basically saying that in the face of these new potential risks we will have to move away from the political idea of progress and social reform - and instead hunker down in the brace position and try and anticipate all dangers that might be coming at us out of the darkness.
To be fair to Beck he is ambiguous in the book about the kind of pessimistic and anxious society that will arise from this new approach. But he says it is inevitable. And in a way it is a very honest depiction of what happened to the liberal mind set at the end of the 1980s - how it retreated into a gloomy pessimism where the only response to events is "oh dear."
I think the truth probably is that it was the baby boomers losing their youth - and finding themselves unable to face the fact of their own mortality - they started to project their fears onto the rest of society. But somehow people like Beck transformed this into a grand pessimistic ideology.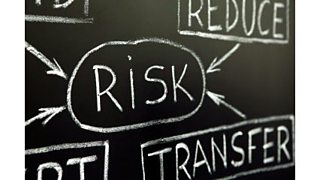 I want to put up part of an extraordinary documentary made during the events of 1986 that dramatically shows just how different our attitudes to risk used to be. It is the record of the group of Soviet technologists who volunteered to go into the ruined reactor core at Chernobyl after the disaster.
It is extraordinary because they all knew they would die. Their protection against the radiation - as you see in the film - was minimal. It consisted of taping up their cuffs and trouser legs and not much else. But they went in because it was the only way to find out how to contain the disaster.
It is so moving because they are men from an older world. To them risk is irrelevant. They believe in something grander - bigger than their own lives. There is also the most fantastic remote controlled camera - it is mounted on a toy tank and its images are great.
The idea of the Risk Society gave modern science and technology a real kicking. Because they were the ones - it said - who were mainly creating the risks.
But it also allowed science to invent a new role for itself. Because a new breed of scientists came forward and said that they knew how to analyse the dangers - and anticipate the risks. They wouldn't try and build dazzling new futures, instead they would keep the world safe by spotting the dangers before they arrived.
It was the beginning of a modern science which now permeates the modern world and whose full dimensions I don't think we've fully recognised. It has become central to all sorts of areas - from medicine and public health, through climate change, finance and the welfare state - and even to the anticipation of terrorism and crime.
What the scientists and technologists do is look for patterns, associations and correlations in large amounts of data. It has permeated the public imagination mostly through the regular reports that find associations between diseases and human behaviour. Journalists love them - the one I particularly liked was the scientific report that said that snoring gave you cancer.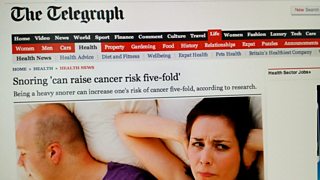 But this science does have powerful roots. It was just this kind of search for correlations that allowed scientists to prove that there was a link between smoking and cancer. It was a piece of scientific investigation that changed the world - and has saved millions of people from an early death.
It was work like that which has allowed modern science to rise up in a different form - and again become central to society - because now it was warning us of the dangers. Which is good.
But there is a weakness in this scientific approach that can allow it to be shaped and manipulated by wider social and political forces.
This is because if you look for correlations you often have no real idea of why something is happening - just that it is somehow associated. The warning phrase is "correlation does not mean causation."
The scientists know this very well - and they constantly try and cross-check to see if the correlation is real or spurious by accounting for all sorts of variables. They look for hidden factors that might really be the reason for something happening and try and adjust the data for these. They have a good name for these hidden factors - "residual confounders."
But the problem is that they are always trying to imagine what the hidden variables are - and the choice of what you do imagine and what you don't is inevitably shaped by wider social and political views of the world.
Which bring us to the vegetables.
Seven months ago a scientific report came out that illustrates this danger very clearly.
It was from University College London and it said said that people who eat seven or more portions of vegetables every day - rather than the recommended five - live longer. And it wasn't just a little bit longer, one of the authors of the report said that the effect was "staggering."
The claims were powerful. It said that if you ate up to five portions a day it would reduce your risk of death by 29%, but if you ate seven or more portions the risk was reduced by 42%
As a result the report got a lot of publicity - with people arguing that the national guidelines ought to be changed. Here's some of the TV and newspaper coverage.
But if you look into the report, two rather surprising things emerge.
First that the data is not really strong enough to support the confident conclusions of the researchers. It is, as one scientist not connected with the report told me, far more a leap of faith than a scientifically proven conclusion.
And secondly the scientists who did the research may have ignored another - and very different - conclusion that the data might point to. This is that if you want to live longer you should change society.
To do the report, the researchers had taken data from the Health Surveys of England. Every year a random group of people are asked questions about their lives - and one of the sections asks them how much fruit and vegetables they have eaten in the past twenty four hours.
The researchers took the answers from one of those surveys twelve years ago and compared the fruit and vegetable answers with who had died over the past twelve years. And that is basically it. The report was based on what sixty-five thousand people said they had eaten on one single day a long time ago.
I asked Professor Tom Sanders, who is Professor of Nutrition at Kings College London, about the research behind the report.
He was pretty scathing. The data was dubious he said - because there is no way of finding out if the respondents had lied. He had a good line - "Men lie about smoking. Women lie about vegetables".
But far more importantly, he said, was the fact that they might have misinterpreted the data. That the reason that some people in the survey live longer may not have anything directly to do with eating more vegetables. It might be that eating more vegetables is the sort of thing people higher up the social scale do.
And people in higher social classes tend to live longer - because of all sorts of other factors, like access to better health-care throughout their life, less stress, living in nicer neighbourhoods with less pollution. All the kinds of things that you tend to get if you have more money and more freedom.
I pointed out to Professor Sanders that the researchers said in the report that they had "adjusted the data for social class". But he was dismissive of this - saying that the data they used to do this was "incredibly weak" and at times non-existent.
And if you read the report, buried away is an admission that one of the most dramatic correlations - that people who eat canned rather than fresh fruit die much earlier - might be due to some other factor completely.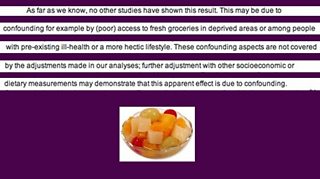 There is absolutely nothing wrong with eating healthily. And it is very sensible to eat fruit and vegetables regularly.
But something else is going on here. The scientists behind the report are playing on our anxieties and saying you must eat even more healthy food so as to avoid dying early. When in fact the data might be pointing to the very opposite.
That the way to avoid dying early is to reform and restructure society so poor people have more access not just to better food - but to all the kinds of opportunities that richer people do. These are a range of social factors from health care and housing and education to social isolation, stress, unemployment, and higher-risk occupations. These are the sorts of things that also affect how long people live.
To lump it all onto vegetables is unfair.
Science and scientists do all kinds of wonderful things. But when they venture into the social and political world they tend to get bent the way the ideological wind is blowing.
Once it was to support politicians trying to expand their power by remaking society. Now - in an age of individualism - it is to keep us in our place by promoting the idea that we should just focus on ourselves and our bodies. And not think about the wider problems of growing inequality and the unfairnesses that brings.
The scientists are saying - just go and eat another banana or cabbage and you'll be alright. They are loading everything onto the isolated individual.
Such reports - and there are many - keep us locked inside the anxieties of the "risk society". While the truth is that you might have a better chance of living longer if you banded together and used that collective power to change society. It would also be a lot more fun than laboriously counting vegetables.
As an antidote - here is a beautiful film about vegetables. It's a documentary made in 1972 about a leek-growing contest in Newcastle. It is very camp - with lots of men discussing the length and diameter of their leeks.
It is also all about statistics and numbers - because it is the measurements that will decide the winner. But in this case it's not about the fear of death. It's all about pride and glory in the vegetables - among men who lead the unhealthiest of lives. Constantly smoking and drinking as they talk about their beloved vegetables.