AVA Festival 2017 Line-Up Announced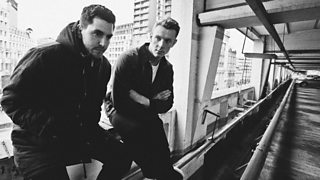 Bicep, who are due to play this year's AVA festival.
Bicep, Marcel Dettmann, Jeff Mills & Guillaume Marmin, and many more acts have been announced for this years AVA festival on Friday 2nd and Saturday 3rd of June.
The electronic festival and conference returns to T13 Belfast for its biggest event yet, with over 40 acts due to play. Now in its third year, the festival includes performances from Close Encounters of the Fourth Kind by Jeff Mills & Guillaume Marmin, Marcel Dettmann, Bicep and more. It will also include a heap of Irish talent including Or:La, Ryan Vail, Saoirse and The Cyclist, to name a few.
Alongside the music, AVA Festival will also feature talks, conferences and workshops from industry experts, with Belfast creative collective Guerrilla Shout creating visuals and light displays.
The full line up is as follows: Marcel Dettmann, Bicep, Fatima Yamaha, Midland, Ben UFO, Job Jobse, Rebekah (Hybrid Set), Ejeca, Denis Sulta, New Jackson Live, Timmy Stewart, TinFoil Live (Sunil Sharpe & DeFekT), Techno & Cans Crew, Jordan, Hammer, Or:La, Myler, Schmutz, Twitch DJs, Inside Moves DJs, Saoirse, Guerrilla Shout, The Cyclist, Ryan Vail Live AV & Album Tour, Swoose & Cromby, MisFit DJs, Subject DJs, Alice Meat Free, ELLLL Live, JMX, JC Williams Live, Holly Lester, Bobby Analogue, Brién, Nez, Ryan Dallas, Clockwork, Paragon Live, Cave DJs: B2B Kapoor, Jika Jika and GIRL.
In other music news the full line-up for this year's RTE Choice Music Prize live gig has been announced.

The award show takes place on Thursday March 9th at Vicar Street, Dublin, playing host to All Tvvins, Bantum, Wallis Bird, Katie Kim, Overhead, The Albatross, The Rusangano Family and We Cut Corners. Other bands nominated for the award (but not performing on the night) include The Divine Comedy, Lisa Hannigan and James Vincent McMorrow.
The winners of album of the year will receive €10,000 from IMRO and IRMA, and all shortlisted acts will receive a specially commissioned award.