ATL Remembers.... Oasis at the Limelight in Sept 1994
Many would argue that the first Oasis album was their best and that there was no better time to see them than in 1994 when their ascent was about to go supersonic. The band played the Limelight in Belfast on Sunday, September 4, a night that was particularly special. A few hours before show time, word came from London that 'Definitely Maybe' had gone straight into the UK album chart at Number One. It was a moment of vindication for the Burnage crew and this ATL report tells the story via the Limelight manager Dave Neely, music journalist Maeve Quigley and Stevie Scullion, Oasis fanboy and future frontman of Malojian. Inevitably, a memory that will live forever.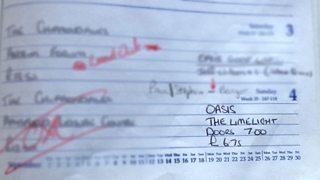 The diary page for Sunday 4th September 1994, Oasis in the Limelight, tickets £6.75!
If you have images from Oasis in the Limelight, 1994 we'd like to see them! You can email atl@bbc.co.uk
(Top Image: Oasis in Shepard's Bush Empire, 2001).