Signed, Sealed, Delivered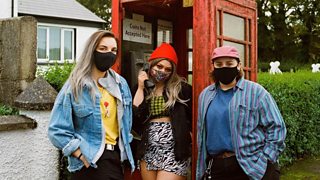 The unce unce energy from derry aka Cherym have just signed to Alcopop! Records. And that's not all! They've announced their new single 'Kisses On My Cards' just in time for Valentine's Day too.
Commenting on the track, vocalist Hannah Richardson says: "'Kisses On My Cards' is an anthem for all hot stubborn gays of the world feeling the emotional pressures of admitting to an attraction without the whole 'my mate wants to know will you kiss her?' routine 🤣💖💜💙".
To support the single, the band have recorded a special anti-Valentines Day message for anyone suffering from Hallmark holiday overkill, fizzing with their signature energy and sense of fun.
Watch here: https://youtu.be/SsmIUee0yvI
Serving up a new found energy on 'Kisses On My Cards' with their zingy, fearless pop punk rock, Cherym are going on to new heights with this release. We are over the moon for them and can't wait to see what 2021 brings for the band.
'Kisses On My Cards' will be available to stream on the 11th of February.