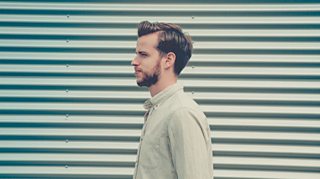 Normally when we get a press release to ATL Introducing Towers, it's full of the usual info – 'best release yet', 'sure to impress', 'comes from the heart'…that kind of thing. Not so for Belfast based singer songwriter Own Denvir. With his new EP 'Stones' arriving on the 29th of May, forming the second part of a trilogy which will form the basis of his debut album, Owen has gone a bit more philosophical.
According to the man himself, "The album and EP trilogy idea is based on Sigmund Freud's theory that personality is a sum of 3 parts: the Id (acting on raw impulse), the Ego (being terrified of consequences) and the Superego (the balance between the two). The first EP 'Sticks' deals with loss and delusion and the impulsive decisions we make while in the spell of 'love'. The second 'Stones' being a more confident but brash take on love, and finally the last EP 'Bones' is when you have the balance between the two, which mostly leads to more healthy relationships ."
Regardless of the psychology behind it all, he continues to wow on this EP. Full of hooks, booming vocals, and a clear influence of indie-pop and soul, what's really noticeable about this is EP is Denvir's approach to songwriting, and how he adopts the role of an observer. Paired with his gift for melody, it truly makes for a great EP.
Opening with his most recent single 'This Could be Love', an acapella vocal section creates an immediate atmosphere, grabbing the listener's attention immediately. It's full of hooks and boasts a soaring chorus, which could easily be seen in the charts. The song itself was produced during lockdown and is about suddenly seeing a friend differently after dropping your guard during a weird dream.
Following that up, 'I Want You So Bad' is a complete tonal shift, transporting you to an era of soul and blues. The track is mainly driven by staccato guitar, organ, and Denvir's soulful vocal really allowing his voice to shine. He refers back to his EP's theme with lyrics such as "I can't keep lying to myself" and "I want you so bad".
'Stones from Paris' is definitely a favourite, beginning immediately with lush guitar licks and an infectious rhythm. The melody is really easy on the ear and wholesome, and the addition of strings throughout really adds depth and colour to the piece, echoing what the lyrics are saying.
'Like Nobody can See' is a classic piano ballad and probably the most timid track off the EP, yet it possesses a rawness. With a sense of tension building during the verses towards the chorus, the repetition and concept of the lyric "Dance like nobody can see" is really effective, and resonates with the listener.
It all adds up to an impressive package, and with 100,000 streams on Spotify, combined video views of over 2 million, music shared by Coldplay, and supporting the legend Dodie…it's safe to say this debit album is going to be worth the wait.