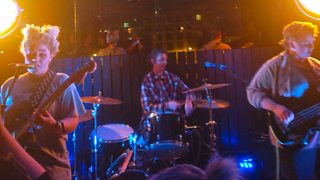 Three-piece punk rock outfit Cherym close what has been a night full of stars, and what a way to finish the festival. Wasting no time, the group get stuck into their set with blistering energy. A force to be reckoned with on the NI scene and it's not hard to see why, with every audience member nodding their heads in approval. 'Telepathic Kelly' is full of pop punk goodness with enough hooks and melody to keep you coming back for more.
Lead singer Hannah is hard to take your eyes off as she commands the stage and calls the audience closer, to which they happily oblige. Currently helping to breathe life into the punk and pop scenes their song 'Hierarchy' serves as a slice of riot girl attitude.
'Take Her Back'; the trio's lead track from their 'Mouthbreatherz' EP, is an obvious fan favourite with its driving baselines and a rumbling drum beat. With plenty of dancing and singing from the audience the girls play an yest untitled new song which confirms them as ones to watch in 2019 as they perform with the swag of a band who are on the cusp of something great. Brand new track 'Scream Queens' has the crowd wild with bass player Nyree providing additional pop filled vocals.
Coming to the end of their set with a tornado of energy it all seems that it's over too quickly. Seeing an opportunity to end their performance in true punk style Nyree quickly climbs on top of the benches with lead singer Hannah following suit. Their performance proves why their style of noise pop/punk is exactly the shot of adrenaline the Irish music scene needs and Cherym are the fresh, fierce females to do it.