2020, the year of the virtual festivals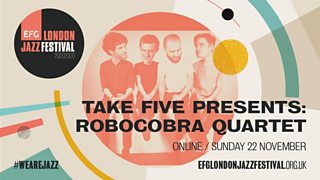 Robocobra Quartet
2020, the year of the virtual festivals. In ways frustrating, but in others absolutely wonderful.
It has opened (virtual) doors to performances, that we wouldn't have experienced otherwise. It's been a way to connect people. It's created a global platform for artists that has made it easier for us to discover new music and in turn help our favourite local bands reach music lovers at the other side of the world.
Now, don't get me wrong I too have endured awkward glitchy Facebook live sessions, but things have improved. Live stream quality has got MUCH better, and as we experience winter lockdown, we can relax in the comfort of our own homes and jump from country to country enjoying the best of the live streams available.
With this in mind, we wanted to highlight some of the most exciting things coming up in the realm of Virtual Festivals, that will make you want to cancel all your plans…or even just take that well over due break from watching those reruns of your favourite boxset.
Kicking things off closer to home with the AVA Festival who have teamed up Max Cooper, a Belfast born music producer who has been making waves in the electronic music scene since 2007. The A/V Streams back drop will be the beautiful Carlisle Church in Belfast. Organisers claim "The show will blend visual content across the history of our society's obsessions with the infinite, in art, our climate, networks, and science, and it's fruition in the modern data explosion." The stream will be free for AVA community TONIGHT (Wednesday 18th November) from 8.00pm, available on Youtube, Facebook and www.avafestival.com
This project has been in the works for three years, and we know it's going to sound and look spectacular.
On Sunday you're going to want to jump across the pond to London, where Belfast's ROBOCOBRA QUARTET will perform a streamed live performance as part of EFG London Jazz Festival.
This will be 'the Quartets' only live streamed performance this year, as they decided to take their time and to do it right. Yes lads, we all appreciate that.
No surprise here, but the band have decided to take an alternative approach to their stream. The band say 'Instead of filming from an audience perspective to replicate a gig, the set is shot from a single camera exploring, observing and reacting to the performance from within the stage.'
Very intriguing, this is set to be an immersive experience, and I for one can't wait. Free live stream available Sunday 22nd November 2020 6:00PM https://efglondonjazzfestival.org.uk/events/take-five-presents-robocobra-quartet
We all know deep down that virtual festivals and performances will never live up to the real thing - the atmosphere, the sweat, even the smells of being at live gig. BUT until that is all possible again, we have to commend the stellar job that both artists and promoters are doing by creating moments and content that will help evoke our spirits and bring us all closer together. Here's to 2020 and the year of virtual festivals.