Shortlist Announced for 2015 Northern Ireland Music Prize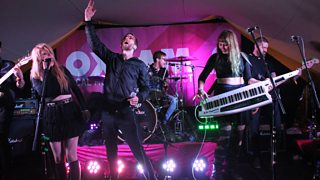 BeeMickSee, one of the twelve nominees, at this year's Electric Picnic
The shortlist for this year's Northern Ireland Music Prize has been announced, along with the musicians playing the live awards event.
More than 70 people from the NI music industry and music media were invited to choose their albums for the prize; which resulted in the following shortlist:


A Plastic Rose - 'Flickering Light of an Inner War'
And So I Watch You From Afar - 'Heirs'
Axis Of - 'The Mid Brae Inn'
BeeMickSee - 'Belfast Yank'
Ciaran Lavery and Ryan Vail - 'Sea Legs'
Duke Special - 'Look Out Machines'
The Lost Brothers - 'New Songs Of Dawn And Dust'
Malojian - 'Southlands'
Not Squares - 'Bolts'
SOAK - 'Before We Forgot How To Dream'
Therapy? - 'Disquiet'
Tim Wheeler - 'Lost Domain'
The live awards event takes place on 14th November in The Mandela Hall, Belfast and features performances from Malojian, Ciaran Lavery & Ryan Vail. Also playing on the night will be Neil Hannon who will be the recepient of a special presentation 'The Oh Yeah Legend Award' for the Divine Comedy.
Previous winners of the NI Music prize were Robyn G Shiels 'The Blood of the Innocents' in 2014 and Foy Vance 'Joy of Nothing' in 2013