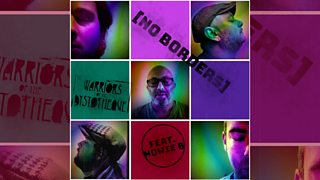 Collaboration alert! Warriors of the Dystotheque have teamed up with Howie B on 'No Borders'.
Warriors of the Dystotheque are made up by Jonny Mac, Sean Graham and brothers Mike and Nick Rufolo. Most artists have had to compromise or change their way of working because of lockdown, but these guys are barely ever in the same country, never mind the same room, so they continue to thrive in isolation. 'No Borders' was created in just a matter of days. Not too shabby.
Collaborating with Scottish DJ & Producer Howie B, they've created a jazzy, funky blend of electronic goodness, that'll chill out even the most uptight music lover.
Warriors of the Dystotheque and Howie B have released 'No Borders' exclusively on Bandcamp for free and will donate 100% of the money made from this track to the UK charity, Black Minds Matter.
'No Borders' is now available now.