Talos release music video for 2AM and announce Irish tour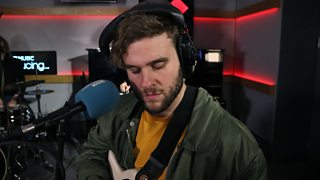 It's been said nothing good happens after 2am but sometimes it's after the party, when the madness stops that you truly start to appreciate the moment. Talos a.k.a. Eoin French always leaves us wanting more, and on this track his mesmerising vocals and lyrics wrap us in wonder, with the cinematic video for '2AM' captivating like the flickering light of a dying candle – you can't take your eyes off it.
Directed by Niall O'Brien, French sees the song and video as a "document of hedonism. It occurs in the dead of night across a peak of bliss, with bodies drenched in shadow and sweat, moving slowly together."
Irish photographer O'Brien savours moments in slow motion that complement lyrics like, 'All we want is wasted, by our stalling, the nights we owned are broken by the morning'. The video portrays stumulation, people giving into their temptations in the dead of night while ultimately longing for an emotional awakening, captured in the final shot where Eoin and actor Karmera Fowlkes passionately embrace. The night is always darkest just before the dawn, and surely with Talos producing content of this quality the sun about to rise on his career.
Allow yourself to get lost for a few minutes and watch the video here.
Following recent global tours with Editors, Peter, Bjorn and John and Aurora, as well as shows at this year's SXSW and dates in China, Talos continues his world tour with North American dates this week, before returning for a Europe-wide tour in May, including performances at The Great Escape and London's St Stephen's Church on 16th May. The band have also just announced a December Irish run. Full tour dates below:
MAY
• 10.05: The Great Escape, Brighton
• 11.05: Deaf Institute, Manchester
• 12.05: Stereo, Glasgow
• 14.05: Oporto, Leeds
• 15.05: Hybrasil, Bristol
• 16.05: St Stephen's Church, London
DEC
• 05.12: Duke of York, Belfast
• 06.12: The Olympia, Dublin
• 13.12: Live at St Luke's, Cork
• 14.12: Live at St Luke's, Cork
• 19.12: Roisin Dubh, Galway
• 20.12: Dolan's, Limerick
• 21.12: INEC Acoustic Room, Killarney
• 27.12 Connolly's of Leap, Cork