Having A Reevah Good Time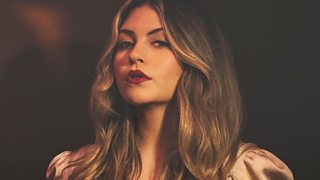 Derry based Indie-folk artist Reevah has recruited friends, family, and a host of Northern Ireland's top artists for the 'Lockdown inspired' video of her new single 'You Said, Tell Me'. Kicking off with a retro VHS feel and Reevah's breathy opening vocals, it plays out like a long-lost video love letter of people singing into hairbrushes, dancing with brooms, and other silliness normally seen on You've Been Framed.
Musicians like ATL's own Gemma Bradley, Roe, Arvo Party, Alice LA, Cherym, Waldorf and Canon, Cormac Neeson, Laytha, Rebekah Fitch, Vokxen, Ciaran Lavery ,and Joel Harkin do their bit, participating in what looks like a social distancing house party. What is so apparently clear is that everyone who took part in the video had a great time doing so. We are all sharing the experience of being on lockdown during this pandemic, and it's good to see people are still able to have a good time and share a laugh. The end result is a fun, energetic and sometimes goofy video that aims to lift every viewer's spirit. And we think it succeeds.