A journalist using only the pre-installed apps on their smartphone is like someone driving a Ferrari in first gear. At the risk of stretching the metaphor to breaking point, you can get your phone purring along in fifth with the addition of just a few well-chosen apps. But you'll have to buy them – yes, by spending actual money.
Before I highlight some of my personal favourites and explain how they could improve your mojo (mobile journalism) output, here's a quick question: how often do you buy a coffee during the day? Perhaps once on the way to work to get yourself going and again later to counter that mid-afternoon slump? Anecdotally from my face-to-face training for the BBC Academy, many people don't think twice about spending £3 for a triple decaf caramel dry latte (extra nutmeg) once or twice a day.
Yet ask those same people when they last spent a comparable sum on an app to soup up their smartphones and I find that it's rarely within the last month. More often it is "never".
But if the money on just one coffee a week went instead towards an app, within a few months that smartphone would have acquired new powers (and you might even have lost a few pounds from your waistline).
The apps I'm writing about here are established favourites within the growing global mojo community - that is, producers and reporters who cover news stories and create related content using just their smartphones plus a few gadgets and gizmos like a tripod, a lens, a microphone and a spare battery.
You can also find an entire level of high end apps which stray more into cinematography than video for news and journalism, but I won't be dealing with those here.
1. Filming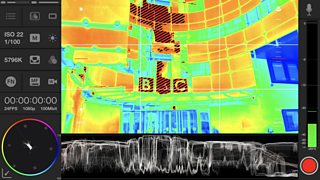 Mavis' 'false colour' feature is designed to help you judge exposure rather than simply providing a psychedelic experience
Most smartphones include pretty decent video cameras these days. And video is a rare area where some high-end Androids can give the user more control and options than iOS on an iPhone: a few Samsung and LG devices, for instance, offer access to settings such as ISO (light sensitivity) and white balance.
But no major smartphone on a major operating system is able to record at the UK frame rate for TV broadcast of 25 frames per second. (I include the caveats because there may be an old Windows Phone which is an exception.)
Instead, you'll be recording video at the American NTSC standard of 30 fps, rather than for PAL at 25 or 50 fps as required in the UK, the rest of Europe and much of the rest of the world.
The BBC has developed its own in-house apps which record at 25 or 50 fps. But if you think it's too much work to land a BBC job just to get those apps, you can buy a third party app which lets you change the frame rate.
The leader of the pack here is FilmicPro. It's not cheap, certainly, but professional features such as zebra stripes, focus peaking, false colour and focus pulls don't come cheap. (If you're not familiar with any of those terms, then perhaps this isn't the app for you just yet).
Decent alternatives include MoviePro, ProMovie and one app which, imaginatively, has eschewed any combination of "movie" "film" and "pro" with the name Mavis.
2. Editing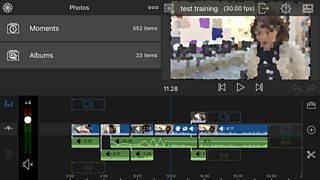 Multiple picture and audio tracks in Luma Fusion
When it comes to editing footage, the right app for you will depend on how complex your edits will be, how powerful your phone is and how much experience you have with video editing.
If you're already comfortable with desktop programs such as FCPX or Premiere, then two apps stand out: Luma Fusion (iOS only) and Kinemaster (iOS and Android). Both offer a second and even a third video track, plus the ability to key-frame effects, adjustable audio layers and customisable text. Luma Fusion also lets you output the videos as 16:9 landscape, 1:1 square and 9:16 vertical.
But neither is for the faint-hearted. Search online for tutorial videos to see what you're in for before taking the plunge.
Another good video editing app (iOS only) is Videoleap but it lacks the option to record a voice-over that the previous two enjoy.
Simpler choices include Perfect Video, Splice, FilmoraGo and Videoshow.
iOS users can always edit with iMovie. The videos will probably be fine but Apple's own app hasn't had a significant update since late 2013. And frankly that's beginning to show, especially when its feature set is compared to some of the other high-end editing apps (e.g. you can only edit in landscape format and you're limited by the colours/fonts/positions for text that Apple allows).
3. Generating text
Adding text to footage with Vont
Many of the above editors allow you to add text to your video, but there are some standalone apps worth mentioning for this too.
If you need to import a special font, then Vont will do this for you. It also lets you choose the colour of your text using RBG formatting and to determine how the text comes on to the screen. Try doing this with iMovie, Apple's own video and text app! (Spoiler: you can't.) Also worth considering for captions are Title Master and FilmStory, which - despite the name - is a simple app for adding text to videos.
4. Audio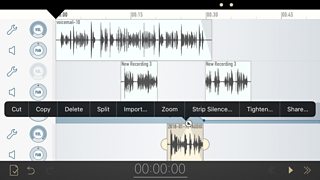 Audio editing with Ferrite
Given the dominance of video especially for social media, recording audio is often overlooked when it comes to mobile journalism. It's worth investing a few pounds to get a lot more functionality than the stock apps offer.
Voice Record Pro offers a simple feature that's invaluable to many journalists: it can add a bookmark during a recording. A gentle tap on the screen (not so hard that it gets picked up by the microphone) produces a marker on the display so that when listening back, you can see exactly when a key moment happened during the recording.
VRP also lets you choose your own audio format (MP3 or WAV) rather than using whatever your smartphone has decided is right for you; Ferrite takes things even further with multi-track layering of audio and sound envelopes - but be prepared to pay for this.
So here's my considered professional tip for better smartphone filming: skip your next trip to the coffee shop. You could be amazed at the improvement in your films.
Also by Marc Settle on BBC Academy:
What journalists and film-makers need to know about iOS 11
Smartphone journalism: Photographs