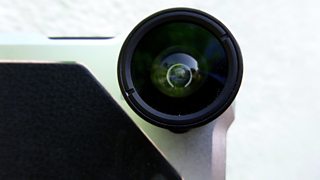 Let's get one thing out of the way: there are lots of makers of smartphones and a few operating systems that run on them. The two main platforms are Android, which runs on the majority of phones, and iOS which runs only on Apple devices. Until fairly recently, iOS has been the main marketplace for 'pro' audio and video apps. There are signs that developers are embracing Android (and about time too!) but it's still playing catch-up to the years of work that's gone on selling audio and video recorders and editors on the Apple app store. I use an iPhone because of the apps that work on it.
As soon as the iPhone 7 came out, I rushed out to buy one. My credit card is still reeling but I wanted to test out Apple's latest phone and see what it could do. In keeping with previous upgrades, I presumed that newer equals better. Surely the 7 was going to be better than the 6S – just because it was called the 7?
Having lived with it from the day it was released, I can't tell you how disappointed I am. But first, the positives: the camera, for stills photography, is almost as good as my £500 DSLR. Except it isn't really. You can get similar quality snapshots but if you set up a shot properly then the DSLR will wipe the floor with any smartphone. But the ability to export and file a photograph or a video from the phone is a huge benefit and one the DSLR can't get anywhere near.
But as a 'Swiss army knife', the phone wins every time. With just a phone in my pocket I can shoot a film, edit it, export it, broadcast live on the radio, on television and create pieces that used to involve two people, an edit suite and half a day's worth of time. And I still have time to create and monitor social media and email.
So why do I hate the iPhone 7? It's because, for the first time since its creation, Apple took something off the new phone: the headphone socket.
The phone is now not enough. Now you need to carry an adapter to plug into a pair of headphones. Using the in-box lightning headphones isn't an option for me because the microphone that gets used is the 'in-line' one and you can't make it use the one on the bottom of the phone. If you're interviewing someone, it would mean you both standing incredibly close to each other (which is fine if you're related, but otherwise gives you a great opportunity to experience your contributor's halitosis at close range).
I know this sounds pedantic - after all, if you've got headphones you could just plug the adapter that comes with the phone into your headphones. But I've got eleven pairs of headphones? Does that mean I should buy eleven adapters at £9 each, or glue the adapter to the back of the phone so I don't forget it? My current solution is to have a 3.5mm headphone plug with a hole in it that fits onto my keyring (available on all good internet auction sites). But it's a useless compromise and involves me carrying my keys around with me everywhere I go.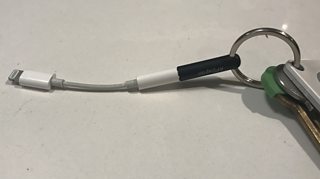 Apple has dropped the ball or, to be more precise, stopped talking to users. In particular they stopped talking to people who create things with their phones. The iPhone is in danger of becoming a small iPad: useful for consumption but not so good for making things.
The white-background videos with the engineering team that Apple releases each year talk about their phone being the best but if they can't develop a waterproof headphone socket, they aren't trying very hard. We were sold the idea that waterproofing was important but I've had a smartphone for nearly ten years and I've never got one wet. I've dropped them, I've broken the screen, I've dented the metal, I've bent one and I've had one stolen but I've never gone for a swim with one (although my son did manage to drop his down the toilet once).
Seriously though, in most markets round the world, Android wins hands-down. Maybe it's time professionals took another look at it? In my job I've been sent, at short notice, to far off places: Nepal, South Sudan, Ilkley. I've had the odd disaster with my iPhone which has led to me pleading with phone repair shops to fix it as quickly as possible. I'm starting to wonder whether, because of the availability of Android devices on, seemingly, every street corner, they offer more as a device to allow us to send material back to base without having to locate the nearest Apple Store?
At this point, people normally say to me 'well, move to Samsung or Huawei or LG - get thee to Android!'. I'm starting to think about it.
As I said, pictures from a phone are no better than a mid-range DSLR. But a wi-fi enabled DSLR would allow better quality footage and stills to be uploaded to a cheaper Android phone. Audio on Android is still a concern. And one of the biggest drawbacks to the platform has been the huge number of devices out there: the microphone on a top-of-the-range Samsung may be great but the cheap-as-chips one on a budget phone is probably not good enough for broadcast.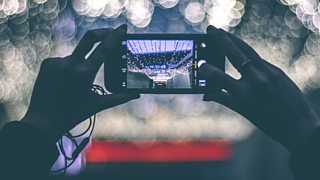 Using an external microphone was always easy with iOS but more difficult on Android until fairly recently. IK Multimedia's new iRig Pro is an audio interface that works with Android, PC/Mac and iOS. It also allows you to plug headphones in and monitor the incoming signal – which means that for broadcast on live radio apps like Luci Live you can hear the studio presenter asking you questions.
Video editing on Android apps like Kinemaster is now a viable alternative to apps like LumaFusion on iOS. Audio editing is the weak link. Most Android apps are designed for musicians, not speech. There are audio recorders out there but they struggle to compete with iOS apps like Ferrite which allows you to edit in a multi-track environment in the same way as Adobe Audition does on a computer.
If that obstacle can be overcome, then the need to 'stay' with iOS becomes less important. It might mean an end to the concept of the single device – the Swiss army knife – but if it means better photographs and video, less reliance on a single manufacturer and more chance of being able to get back up and running again in a shorter amount of time then perhaps it's time to jump ship?
Shooting a 60 minute doc on a smartphone
How our mobile-only TV package made the network news
Ten apps to take your smartphone videos to the next level