News shows often incorporate audience reactions from Twitter and Facebook. It was more unusual for BBC Radio 4 to invite listeners to contribute to a live drama production.
Publicity image for Hashtag Love
Last year, writer Peter Souter came to Alison Hindell, the BBC's head of audio drama, with an idea for a live afternoon play that would allow elements of the plot to be affected by interactions with the audience on social media.
They took it to the commissioner, who said "I don't know what you're talking about, but it sounds great, let's do it."
Radio Four's afternoon drama slot comes at 2.15, right after The Archers, so Peter suggested a 45-minute drama for Valentine's Day related to The Archers – which has very active fans on social media and an online assistant producer who engages with them.
The plot of Hashtag Love would be a romance between an Archers producer and a sound engineer – in hope that the Archers' audience would stick around and interact.
"The risk was that we were doing this play that requires people to comment on Twitter, and that nobody would. We really didn't know the numbers," explained Alison.
Incorporating a real social media audience into a fictional drama
They soon ran into their first problem: they had originally envisaged "a light, frothy, behind-the-scenes comedy that bounced off The Archers' storyline," said Alison. "We then discovered that they were having a week of tragedy, and had forgotten it was Valentine's Day in their planning. So there wasn't anything ready-made, and we actually had to be quite careful about how we treated their content, because we didn't want to offend Archers fans or be disparaging about the story."
So Peter and Alison "recalibrated" their story to make it more bittersweet. They cast recognised actors Ruth Jones and Stephen Tompkinson to attract online interactions.
Ruth played an Archers producer who engages with social media, making it possible to incorporate genuine comments from social media during the broadcast.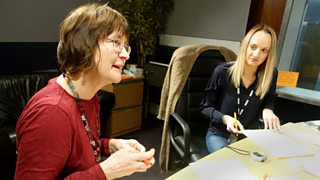 Alison Hindell (left) in the studio for Hashtag Love
There were two different possible endings to the play, with one of them to be chosen during transmission in response to social media.
"We would select one about 20 minutes before the end of the play, according to the mood of what was being said on Twitter. If people were saying 'this couple should stay together' or 'they should split up,' we would pick the relevant ending."
Using social media responses during a live broadcast
They rehearsed on February 13th and again on the morning of the 14th with 'fake' social media comments in the script,then went live in the afternoon.
Steve Bowbrick from BBC Radio 4 online sat with Peter in a separate room in the studio, monitoring and feeding into the Twitter and Facebook activity.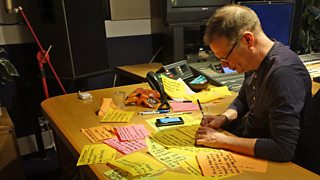 Peter Souter collecting social media comments during the live broadcast
"We had rehearsed it so we knew exactly when in the script we'd have to be getting a comment ready," said Alison. "My assistant would go next door, grab a comment they would thrust at her, go running around to the studio, tiptoe in and hand it to the actors. They had it marked in their script that they would be getting something to sight-read."
"The tweets themselves, beyond the cumulative effect of them making us choose one ending or another, were carefully crafted within the script so actors could continue on regardless of what was said."
Social media comments were selected based on how witty or interesting they were.
"Part of the point of it in Peter's mind was to celebrate the cleverness of people who write tweets. It's quite a skill to write a witty comment in the limited space that you have."
Does social media have a future in drama?
While being a fan of this experimental style, Alison cautioned that it can't be used for everything, and that the subject would need to be carefully structured. For example, a live drama serial could be constructed where each week social media comments influenced the direction of the script.
"The challenge we tried to capture in Hashtag Love was that the joy of social media is that it's very live and happening now. Yesterday's tweet is a bit like yesterday's newspaper – it's not that interesting any more because the moment has passed. I don't think it's the future in the sense that we will suddenly be able to jettison all playwrights."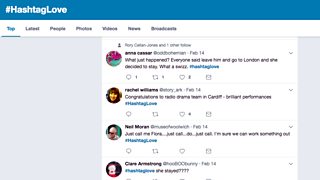 Hashtag Love tweets
As to what she would do differently next time, Alison said she would definitely be bolder, because they were "absolutely delighted and knocked out" by the social media response. In a similar type of drama, she is now confident that more time could be allowed to fill with that type of material.
"As a director, the risk you take is that you don't have final control over an immaculate, polished piece of work. But if you're going to direct a live drama, you've got to take it in a different spirit, which is to capture something which is perhaps more natural and relaxed, and not be so precious a craftsperson."
For the record, perhaps in a Valentine's Day mood, the audience chose the happy ending.
With thanks to Steve Bowbrick for the studio pictures