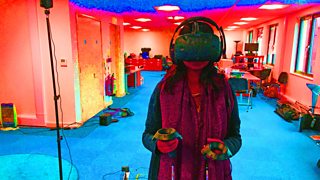 Is it possible that makers of virtual reality are living in a fantasy world - not when they put their headsets on but when take them off to discuss how soon we'll all be living in VR?
After researching the strategies of 25 media organisations, Zillah Watson, Editor, BBC Research and Development, has concluded that for all the time, money and energy being thrown into VR, nobody is even sure whether there'll be a 'first mover advantage' for VR pioneers.
For news producers, she says, it might be just as sensible to sit back, let other people find out what works and then jump on the bandwagon - if and when it's definitely rolling, and when there's a decent audience for VR. One wag, asked who today's news VR content is for, answered tartly: "news VR producers". And, admitted Zillah, there's "some truth in that".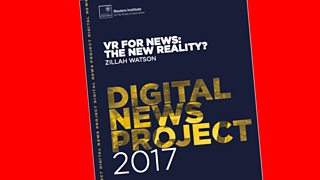 But Zillah's report, for the Reuters Institute, on the use of VR in news, isn't pessimistic. It's just balanced: so while she says that for many people, the VR experience is still "a bit clunky", she also enthuses about the best of it: "good VR really is amazing …the power of this new medium in the home is worth the fight."
Speaking to a BBC staff audience, she produced a list of her favourite VR experiences, topped by Notes on Blindness, a recreation of sight loss, using the audio diaries of the late John Hull which were recorded on cassette in the 1980s. Interestingly, this is a VR experience which is special because of what you can't see, and because of the evocative use of binaural sound.
Also worth checking out from Zillah's list of VR and 360 video highlights:
Zillah has been responsible for some of the BBC's VR productions, but has excluded BBC content as case studies in her report to avoid any conflict of interest (and perhaps through modesty).
In her strategic analysis of the use of VR in news organisations, Zillah breaks down the task each faces into different components. To make a VR initiative work, you need to have covered all these bases
Content stategy
Production plan
Distribution strategy
Marketing
Business strategy
How to execute any of them well is open to debate. Take marketing, for instance: how do you get your precious VR product to people who want to experience it?
Zillah said that for users today, looking for a VR product is unfortunately still "like being dumped in a pile of CDs with no labels on".
Some organisations have made huge efforts to bring VR to their audiences. The New York Times is perhaps the most ambitious. It has trained a hundred journalists to produce VR content, publishes something new every day and has given away a million cardboard headsets in partnership with Google to enable its readers to view the work.
That daily product is produced on consumer Samsung 360 cameras, a completely different approach from that of the Guardian, for instance, which has so far produced only three, more expensive and ambitious works.
'Many and often' or 'fewer and better' is just one version of the dilemma between a strategy of trying to enthuse a small number of people with a great experience or reaching a larger number who haven't invested as much in time or equipment to experience VR. Zillah explained more after her talk:
The main focus of Zillah's report is news organisations, but news is not the only media sector interested in VR. Indeed, it may be that widespread adoption of VR technology will be spearheaded by a different genre – drama or gaming for instance. If that's the case, what's been learnt in news could still be useful, Zillah says:
If it seems something of an uphill struggle to persuade a big audience to use VR, Zillah says, that's not surprising. After all, it was only in the 1970s that the British public was exposed to ads urging them to use their phones to call up their friends on their birthdays. We were still learning what phones were good for many decades after they appeared in our homes. Oh, and "no doubt, there'll be a health scare", said Zillah, as there is with all the best new media.
In the next post, we hear the views of other VR producers on what kind of content works in VR, and the difference between 360 video and VR.
Read Zillah's full report, VR for News: The New Reality.
My first 360 filming and editing experience.
360 video: BBC Click's innovative storytelling
Virtual reality, 360 video and the future of immersive journalism
BBC R&D: 360 video and virtual reality