How can news stories be told differently? An Advanced Storytelling course tries to answer that question. Here, its leader offers his tips.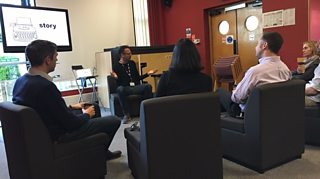 You might not expect a workshop for correspondents and news producers to kick off with a clip from a Pixar film, but I wanted this course to be different. So at the first of my Advanced Storytelling workshops last month, I showed attendees the Toy Story trailer. For me, this twenty one year old film not only exemplifies great storytelling but is also a reminder about telling stories from a different angle - a story about a child's toys, told from the toys' perspective.
I know there might be some cynicism in newsrooms around the term 'storytelling', but let's not forget the power of a good tale well told. If we strip it back to basics, a news story is like any other. It should move an audience, take it on a journey across the threshold and change hearts and minds in the process.
I've designed my workshop to open my audience's eyes to new ways of telling stories. These ways aren't necessarily better - it's not a case of right vs wrong - but they, like Toy Story, offer a different perspective. It's all about fostering a new mind-set. And getting re-energised about your craft. Organisations hire me because I'm an outsider. I'm not a trained journalist and I've never worked in TV news. Standing on the edges offers me a different point of view.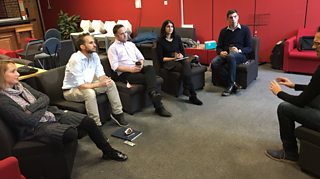 From last month's workshop in Southampton, here are my four tips for telling stories in a fresh way:
Get out of your bubble. Whatever industry we work in, inevitably we can get stuck inside our comfort zone. So we need to shake things up by changing our habits. In Southampton I sent the journalists out on a 'Story Safari' around the city's streets, getting them to look at their patch through a different lens. They returned reinvigorated, having discovered people and places they hadn't seen before, their notebooks full of story ideas. So venture someplace you've not been before; tune into the sounds, people and scenes around you. You might be surprised what you find.
Try new approaches, taking inspiration from other places. My attendees acknowledged they had got stuck in a fixed way of storytelling. So if you are looking for new approaches, try taking inspiration from other channels, platforms and genres. (I used clips from Channel 4 News and VICE News as examples.) Even Toy Story can teach you how to grab the audience attention or show you the importance of strong, juxtaposed characters. Are there Woody and Buzz characters in your story? Look beyond the walls of the BBC for inspiration.
Be human-centred. I know the challenge in the daily news cycle. It's hard. Some stories don't lend themselves to creative angles, especially if it's another story on NHS funding. But remember that essential ingredient: stories are driven by emotion, not data. And the good news is that video is great at communicating emotion. Your audience won't remember facts and data; they will remember people. So lose the bar charts, shine a light on people.
Take your audience on a journey. Every story should involve an element of transformation. So ask yourself, have you taken your audience on a journey? Have you opened their eyes to new possibilities and challenged their world view? Take them on a journey across the threshold from how they see things now to how things could be. That's powerful.
Stories are all around us. Sometimes we just have to look a bit harder to find the interesting ones. My Story Safari shows journalists that if they look at the streets around them differently, they might uncover things they have never seen before.
In Southampton, BBC South Today's Tom Hepworth was surprised by what he discovered just ten minutes from the newsroom. He stumbled upon the Southampton Pride Of Place project, a pop-up exhibition about the city and its people. He returned full of ideas for South Today stories.
So if you walk around, follow your curiosity and shine a light into new corners, you never know what you might discover.