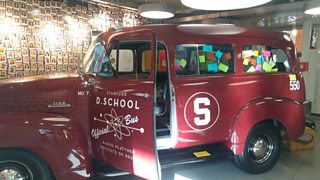 Ideas can happen anywhere, even on the Stanford Design School bus
Last November, in the days after the US election result, a handful of senior BBC News journalists spent a week at Stanford University, in the heart of Silicon Valley, meeting the digital designers of tomorrow and some current key players from the likes of Facebook, Apple, Google and Buzzfeed.
The trip was a pilot leadership development scheme and a chance to build connections with some of the world's major digital disruptors. Among the delegates were BBC World Service mobile editor Trushar Barot and Ros Atkins, presenter of daily BBC News programme Outside Source. The two shared personal insights and a few things that inspired them at a recent briefing for BBC colleagues:
Seven things I learned - Trushar Barot
Smart young people can't tell real news from fake
So suggests a new Stanford study into how US teens evaluate what they see on social media. "Many people assume that because young people are fluent in social media, they are equally perceptive about what they find there. Our work shows the opposite to be true," concluded Professor Sam Wineburg, the report's lead author. Traditional news producers like the BBC needed to take note, Barot believed.
Small multi-disciplinary teams lead greater innovation
The Stanford design school brings together students from different disciplines into a single innovation unit. They find a problem or gap in the market then work through a five-point plan to solve it:
Empathise (spend time in people's homes, observing how they behave - the kind of data you can't get from surveys)
Define (the opportunity or problem)
Form ideas
Prototype (may not be perfect)
Test (and learn)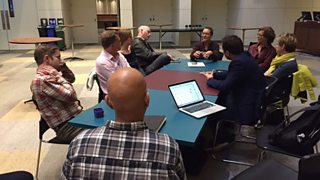 BBC delegates join a meeting at San Fransisco public broadcaster KQED
Driverless cars are amazing!
At experimental lab Google X (or just X, as it's now known), the BBC visitors travelled in cars covered in sensors and cameras, but with no one behind the wheel. Pedestrians appear as stick men on the passenger's laptop and the Google cars, which have done around two million California road miles in 18 months - with no prior warning to regular road users - can differentiate between traffic conditions at different times of day and adjust their driving to suit. "It was scary," Barot admitted, "but within minutes I felt safe."
Drone technology is improving rapidly
From Richard Gingras, Google's head of news, Barot had a demo of a $500 drone that can stream live HD from a mobile phone to a website. Negotiations are under way in the US about the legal status of drones - whether they class as aviation or amateur toys - rather like is happening in UK. Could it be that when a big story breaks, an amateur drone would be free to fly over the location while one owned by a news organisation would be restricted?
Virtual reality affects your senses in ways no other media can
Barot's verdict after visiting Google's VR labs and experiencing their Superman programme, where additional sensors on your arms and legs make 'flying' over buildings "incredibly immersive".
Also impressive was a programme that allows you to look in the mirror and your reflection is a black woman, reflecting back your movements and expressions. Google has done the experiment with different communities. "Your ability to recognise and relate to the image is instant," the World Service man discovered.
"We're an AI-first company", the major tech companies now declare
Barot talked about how many of the big tech companies said their future strategic plans were being built around artificial intelligence - a statement backed up by speeches from several CEOs in recent weeks.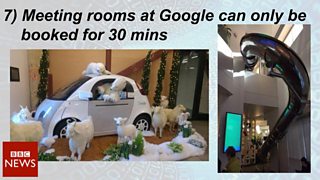 Meeting rooms at Google can only be booked for 30 minutes
Enough said.
Certain insights had given Barot particular food for thought. For a start: "Competition is much broader than we think. We're used to keeping an eye on what the likes of CNN or Sky News might be doing, but it could be a bloke in his bedroom in Slovakia with a fake news site that's getting more traffic than you because of a fake story about Trump. How do we get that attention space?"
How could BBC teams develop a start-up mentality for innovation? A small World Service pilot in 'agile' working, using Stanford's five-step approach, would be testing that out, he said.
The ethos he observed in the US, that failure is nothing to be embarrassed about and can even be seen as a positive thing, had been nothing short of "inspiring".
Five things that surprised me - Ros Atkins
"I went out to Stanford thinking I was doing OK on the digital front," said the presenter of one of the BBC's most innovative news shows. "Now I think there's work to do." He'd expected discussions about AI, VR, data and fake news, but not necessarily:
The importance of developers
The advice from Apple News was to "sit with your engineers". "Those I work with are five floors up, not in newsroom," Atkins said, imagining "hundreds of stories" that could benefit from closer working.
At Stanford Design School, meanwhile, the multi-skilled 'developer journalism' model was well established: "We met a professor who had journalists, developer journalists and developers sitting side by side," the presenter said.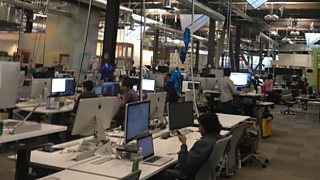 At Google developers, journalists and developer journalists sit side by side
The importance of emotion
There are plenty of "emotional" people in Silicon Valley, passionate about what they're doing. Companies expect their staff to be emotionally engaged but to "manage" their emotions too.
In the jargon:
"Establish your kill metrics before you emotionally invest" - Google X
"Don't fall in love with your ideas" - San Fransisco-based public broadcaster KQED
"We try to be emotionally efficient" - Apple News
The importance of HR
Atkins thought there could be lessons for traditional media companies in the effort Silicon Valley puts into recruiting the people they need and the "impressive matching of talent with tasks" in what is a determinedly fluid digital workforce:
"We spend lots of time on outreach recruitment" - Buzzfeed
"Previously, our staffing didn't match our rhetoric on digital" - Justin Ferrell, former digital chief at the Washington Post, now Standford Design School's director of fellowships
"No one wants to be a blocker [of ideas]" - Simon Rogers, Google data editor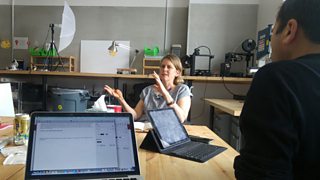 Ros Atkins talks innovation with Amanda Hickman, head of Buzzfeed Labs
The importance of connectors
It's not good enough anymore to just be good at something: "You need to evangelise and make connections."
The importance of 'light touch'
The example Atkins used was the simple, but potent Facebook thumbs-up symbol for 'likes'. According to Jeffrey Hancock, Stanford professor of communication, that importance "cannot be over-stated".
One enduring thought from Silicon Valley, he said, was that we've moved from obsessing about how we fund journalism to asking "what is it and how do we get it to people?".
Another simple imported rule of thumb: "Are you clear what you're trying to do and why? Can you say so in a sentence?"
And the clearest way to having an idea? "Identify the pain, then help it go away". (The "pain" of sports coverage that's sometimes perceived as male and football-centric had been countered on Outside Source recently by reporting on a much wider variety of sports, the presenter said, to positive audience response.)
The takeaway phrase that kept "bugging" him, though, was "incremental is not enough". "To make what you do better, it needs to be more fundamental - more of a jump," he explained
A real world example was his own programme's ambition to be more gender-balanced in its mix of contributors. Perhaps that should be "non-negotiable", he suggested: "Let's just assume we're going to get there and concentrate on how we do it."
Atkins hoped to be able to report a better balance on Outside Source in the months ahead - a worthy Stanford legacy, if so.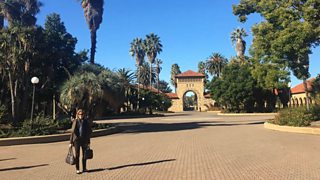 November sunshine in Silicon Valley: a source of insights and inspiration
There was recognition in the wider session discussion that, by its nature, the publicly-funded BBC could not embrace all of what works in Silicon Valley. Perhaps aspects of start-up mentality and responsiveness could be applied to brand new services, like the new digital language services the BBC will launch later this year. But the BBC Ten O'Clock News? The Today programme? Not so easily.
Areas of the BBC where developers and journalists already sit together include test bed teams at BBC News Labs and the Visual Journalism unit. Fresh from their Californian immersion, the two journalists were asked by one questioner what they would do if they had 100 developers on loan from Facebook.
For Atkins, Trump was the biggest story in town and he'd put developers to work on some of the "heavy lifting": "The data is sitting there," he said.
Barot's focus was how to deliver digital content to audiences with limited technology and connections. He'd assign the extra tech expertise to making BBC World Service audio and video as data-light as possible and as discoverable as possible.
The driverless cars can wait…