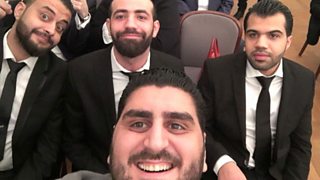 Most wanted: Hussam, Aziz, Hamoud and Sarmad (front)
Like many journalists with an interest in the war in Syria I had heard of Raqqa is Being Slaughtered Silently and had followed the group's posts online to learn about life under jihadist rule.
I had read how they were using undercover reporters inside Raqqa and I became fascinated by how they operate as a group. In June last year I began messaging their spokesman, Abdalaziz Alhamza (below) who now lives in Europe, and soon we were talking over the phone.
He was keen to get as much coverage of the situation in Raqqa as possible. It took a while to persuade him that the members' personal stories deserved to be told.
Eventually, I flew out to meet Abdalaziz in January and spent a few days with him. It was a while before I could get him to open up about everything he and his friends had been through. That time spent just chatting, without any recording, was vital in gaining his trust.
It's not often that BBC budgets can accommodate such an expense but for sensitive stories such as this one it is essential. It helps having an editor who gets that (Richard Knight) and room in the budget for you.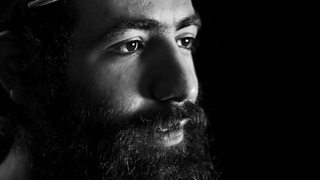 Security surrounding the interview was a concern for all of our team at the BBC. The main fear was that I could inadvertently give away the mens' locations to operatives or sympathisers of so-called Islamic State who might be monitoring the group's emails or social media.
I consulted the BBC's high risk team and we agreed that I should communicate all the details of the location and times via encrypted messages. So I contacted a friend who works on investigations for the BBC Panorama programme and he put me in touch with some very clever computer whizz who tinkered with my laptop. "This is what Edward [Snowdon] uses," he assured me, "not even the CIA can get into your computer now."
My computer was definitely secure but it was no good without securing the other side of the communication and Abdalaziz was far less concerned with his safety than I was. Eventually we agreed to use a far simpler but fairly secure messaging app and communicate the rest by phone.
Phone calls are pretty secure it turns out. Whatever conspiracy theorists would have us believe it is so time consuming to tap someone's phone that our security agencies struggle to find the manpower let alone a group like ISIS.
All the filming took place in a studio over two weekends. We couldn't take the camera outside on to the streets for fear of attracting attention to the group and we had to film against black to ensure nothing in the studio could give away the location.
That meant we had to get creative. Luckily our cameraman was the extremely experienced and wonderfully talented Tony Jolliffe who used a second tight-shot camera sliding past their faces on a dolly and he lit the men's faces beautifully.
I also hired an animator to help bring the historical story to life. I found Syrian refugee Wael Toubaji, whose close knowledge of the country helped give his images authenticity. I also like the graphic novel style he employs. In the end I think simple but intense interviews coupled with strong animation allow the audience to be completely absorbed by the story.
Although the group are in hiding they aren't hidden. They are trying to embrace their new lives in Europe and are, cautiously, making new friends and learning the language where they now live. Perhaps they should be taking more drastic measures to protect themselves but they say that they don't want ISIS to force them into a self-imposed prison. That would mean they had lost.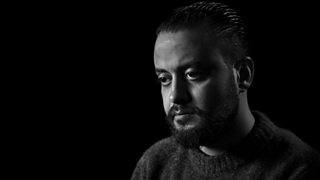 Hussam, a member of the group: "In hiding but not hidden."
In the evenings we went out for dinner together and this gave us an opportunity to chat in a relaxed atmosphere. This is when they opened up and told me more personal stories – how one of them had lost his 14 year-old brother who was fighting with the Free Syrian Army. His family never recovered his body because when ISIS overran his battalion they killed them by throwing acid over the captured fighters.
Another of the friends described how his brother, frightened that ISIS might come after him, had tried to follow him to Europe but had drowned off the coast of Greece. There were so many events that didn't make it into our final cut for lack of time. And many more that, for security reasons, the men didn't want published.
But all these conversations gave me a deeper insight into them as people and helped me tell their story better. Working with me was BBC Arabic language producer Faisal Irshaird, who was vital in allowing me to communicate with the two who didn't speak English.
As a journalist you remain impartial in your work but it is impossible to spend time with people and hear such harrowing, emotional stories without becoming attached. I do worry about these young men because I fear my report may have raised their profiles and made them more of a target.
And I worry most of all because they don't worry enough. They feel guilty that they are handling undercover reporters inside Raqqa, who they see as the ones taking the real risk. So those on the outside, sitting in Europe, want to show they're not scared either.
But they should be. They have humiliated probably the world's single most bloodthirsty, brutal group and they may never be safe.
Watch Chloe Hadjimatheou's five-part documentary 'Islamic State's' Most Wanted.
This project was funded by BBC World Service's Digital Storytelling Fund.
Photography by Tony Jolliffe.
Why telling the "full story" of Islamic State group was my toughest assignment yet
Our section on multimedia journalism
Our blogs on cyber security for journalists by Alan Pearce