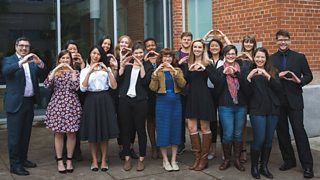 O is for Oregon: our New York party. Picture: University of Oregon.
Last month, I spent a week in New York with 14 of the University of Oregon's top journalism students. It took us as long to fly from the West coast as it would have from London. So it's perhaps no surprise that some students had never been to the Big Apple and many hadn't considered New York as a potential home after they've graduated.
By the end of our week, all that had changed. Enthused by all they saw - and the generosity of our hosts – we flew home on a journalistic high.
Here are some of the key lessons that I took from our visits:
1. There's never been a better time to be a journalist
Yes, the economics of our industry are challenging. Yet at the same time, the diversity of opportunities and outlets has never been greater.
We visited traditional organisations such as the New York Times, The Wall Street Journal and The New Yorker, newer entrants like BuzzFeed and The Huffington Post, grad schools like CUNY (City of New York) and Columbia, and the online analytics company Parse.ly.
Every place was different. Each was an inspiration.
2. New models of journalism and media are emerging
People are committing acts of journalism in new and exciting places.
This includes non-profit organisations like The Marshall Project and ProPublica, NGO's such as WITNESS, which supports people around the world to use video in their fight for human rights. Then there were start-ups like the VR/AR hothouse Empathetic Media, and the nonfiction visual storytelling of Blue Chalk Media.
These different business models are facilitating new forms of journalism, and having a real impact in the process.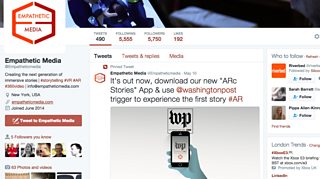 Empathetic Media's announcement on Twitter
We visited Empathetic on the day that they released an AR (augmented reality) experience in partnership with The Washington Post, exploring Freddie Gray's murder.
3. Journalists still work in newsrooms or go into the office
Of the 18 companies we met, each had a distinctive vibe and atmosphere. The Huffington Post has sleep pods; The New York Times, I suspect, does not. The New Yorker felt wonderfully bookish. The expanse of desks at the Wall Street Journal looked like they went on forever. ZDNet and Tech Gadget had just one person, their editor in chief Larry Dignan, in their New York office - albeit surrounded by members of the wider CBS Interactive team and a rather nice looking pool table.
In the age of the cloud, it's surprising that more companies don't use the 'distributed office' model. Doing so might help offset some of the geographic challenges US journalism faces. But as The Washington Post commented last year: "If you want a reporting job today, your best bet is to move to D.C., L.A. or New York. They were home to almost one in every five reporting jobs in 2014, up from one in eight in 2004."
4. "Video is the new black"
Media companies are investing in video. But making it scale, and understanding what works for audiences, particularly in the thorny field of sponsored content, are challenges everyone is grappling with.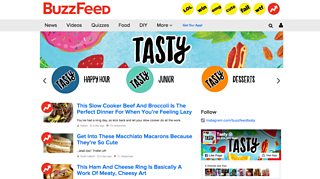 BuzzFeed's Tasty
But despite the uncertainties, video offers great journalistic and creative possibilities, manifest in everything from BuzzFeed's video app and Tasty series, through to eyewitness captured media, and both short - and long form content - which packs a punch; like Blue Chalk's Burned Girl and their documentary on Japanese War Brides.
As Blue Chalk's co-founders Greg Moyer and Pam Huling reminded us, we live in an era of unprecedented opportunities for the creation and distribution of video.
5. But writing still matters
Despite video's ascendancy, strong writing remains an integral part of the journalist's toolkit, irrespective of your specialism.
For The New York Times' graphics desk, photos and captions have to "work as paragraphs," even in the context of visual-led storytelling. Over at the CUNY's Graduate School of Journalism, applicants for their M.A. in journalism must submit at least two (out of three) samples of written work as part of the recruitment process, even if they intend to focus on audio and video.
CUNY's entrance exam, meanwhile, also tests for grammar alongside an interest in current affairs, analytical and editing skills, as well as the "ability to write clearly and concisely in a timed environment." (You can view the entrance papers from previous years here.)
6. Getting on
"Ensure your editor is well-fed," ProPublica's Tom Detzel advised, noting the opportunities this can unlock for passion projects and exploring new avenues.
Ian Fisher, The New York Times' Weekend Editor, emphasised the need to nurture relationships with editors. You need "some to have your back and mentor you," he said.
ZDNet's Larry Dignan encouraged students to "be scrappy" and to understand the wider business landscape that they're entering. "I think the future's bright for content," he told us, "but not for organisations." He argued that "at the end of the day, we're all freelancers."
7. Journalists need to adopt an entrepreneurial mindset
Journalists need to keep developing new skills if they're to stay on top of their game. Nancy Gauss, deputy editor for video at The New York Times, highlighted that new platforms are emerging every six to twelve months. With that pace of change, you need "to be willing to sink your teeth into things you find interesting and teach yourself," she suggested.
The team at BuzzFeed said their news team would be "all over" new platforms, even if that wasn't part of their job. A love of new technology and the potential it affords isn't just part of a mindset they adopt for work; it's part of their journalist's DNA.
It was a memorable week. I'm already looking forward to doing it all again in 2017.