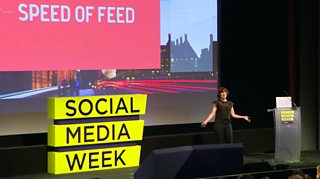 Kat Hahn, Head of Creative Shop, Northern Europe, Facebook
Social media consumption on mobile is today so big that one piece of media that's designed to work 'for social' is no longer good enough.
That was the message of Kat Hahn from Facebook, at Social Media Week London 2017. Hahn says that content producers need to "create a content ecosystem" that treats a subject in different ways for different occasions.
Specifically, there are three types of use that need to be catered for:
- On-the-go: ultra-short video content that can be accessed in a few spare seconds, maybe waiting in a queue – "something I can snack on".
- Lean forward: items that are a bit longer and can demand more attention but still in an unplanned way.
- Lean back: longer, immersive content, viewed in a relaxed environment, maybe as an alternative to TV.
Hahn said research shows that On-the-go items completely dominate usage – 70%, compared to only 20% for Lean forward and just 10% for Lean back.
If you look at those numbers, the majority of a content producer's effort should go into what Hahn calls "thumb-stopping content". That can be as short as a three second video for use on Instagram (which is owned by Facebook). She showed an ad for a disinfectant in which a bear stops a car on a zebra crossing to protect a child as an example of a three second story.
For producers with grander ambitions, she warned that in this arena "there isn't such a thing as a captive audience". On the other hand, making something that works brilliantly at three seconds is, if anything, harder than longer pieces: "we have to think of it almost as a new art form".
The three second masterpiece still needs great writing, art directing and cinematography. But it also demands new skills such as different framing devices, careful compression, inventive story arcs and attention to what happens when a piece starts looping.
Hahn said that short form may be only one version of a campaign. If you get it right, users will move between different iterations as they find themselves in different moods and situations. But remember, she concluded: "not doing short video is not an option".
Facebook's message is all very well for brands and advertisers, but does it also apply to broadcasters – especially public service broadcasters like the BBC?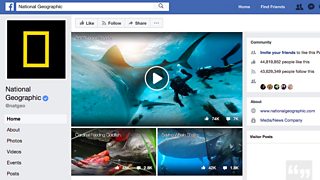 Well, National Geographic has a long public service tradition – starting with its magazine, and then with its television channels. But according to the company's Nadine Heggie, also speaking at the conference, Nat Geo today is at the centre of the world described by Hahn and is about as big as it gets on social media. Heggie showed Nat Geo is the first company or brand to appear below the handful of international celebs at the very top of the charts of various social media metrics.
The numbers are mind-blowing: 620,000 people engaging with a single Nat Geo post on Instagram, 94 million impressions in one day for a campaign to encourage women to pursue STEM subjects and a short video of a shark attack being seen by 98 million people.
As Heggie framed the challenge: "how do you get people to stop scrolling and engage with your content?" It's not just the headline numbers that count, but the fact that people are liking, sharing and commenting:
Nadine Heggie, Vice-President, Global Partnerships, Europe and Africa, National Geographic
So how has Nat Geo's clutch of social media accounts - 38 on Facebook, 18 on Instagram, 43 on Twitter, seven on Google+ and five on YouTube – changed its audience, and its message?
Heggie insists that the pressure to grab the attention of impatient social media users hasn't compromised Nat Geo's essentially serious ambitions - thanks to a combination of longer pieces and careful attention to compressing content:
Nat Geo's credentials for going beyond easy hits like shark attack videos were demonstrated by the Nat Geo photographer Stephen Alvarez, who talked about his Ancient Art Archive, a philanthropic project to photograph cave paintings and other art that's survived for around 40,000 years.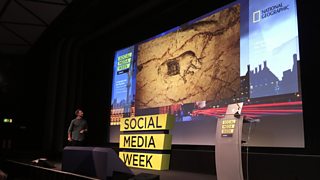 Stephen Alvarez shows one of the cave painting he's been photographing
Alvarez showed some clear images of hands on cave walls which must have had coloured dust blown over them to outline the shape: "the first selfies", he called them. Little did their subjects expect their work to be reproduced and shared so many millennia later. There's a lot to be said for having your content set in – or at least on – stone, rather than on an ephemeral smartphone screen.
Engaging social media audiences
Facebook Live tips (access for BBC staff)