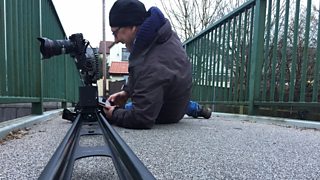 Nick Skinner uses a DSLR on a powered slider to gather timelapse pictures in Pontypool
We don't all have them at the BBC, but the world is full of vloggers and journalists using DSLRs – digital versions of the old single lens reflex cameras. DSLRs have the crucial advantage over their predecessors of also shooting video.
If you're planning any filming of decent quality and don't want to spend a fortune, the received wisdom is: "use a DSLR" because it's cheaper than a professional broadcast camera and can produce good results.
Indeed, in some respects, DSLRs certainly give video cameras a run for their money. You can get gloriously shallow depth of field (to defocus the background), huge flexibility and a massive range of reasonably priced creative accessories.
But you're saddled with a fiddly and complex piece of kit which was designed primarily for stills photography and which needs a load of extras before it can produce the results you'll be looking for.
The broadcast camera manufacturers have seen what's happening and have been working hard to catch up.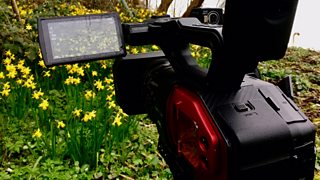 Camcorder test by the River Taff
So what does the choice between a video camera and a DSLR look like today?
I've been testing some low-cost professional camcorders and have found if you want great quality at a low prices they could be the best option – at least for everyday run-and-gun shooting.
So here's my scoresheet on the competition between the two options:
Price
For most people this is the key factor and was one of the main reasons for the rush to DSLRs in the first place. But the days when a broadcast camera cost upwards of £10,000 have long gone.
A good professional quality DSLR has a cheap headline price; you can find something like the Panasonic GH4 for under £1,000, with its updated model more like £1,700. Much prized "full frame" cameras, which have larger sensors to capture pictures on, cost more. So the Canon 5D costs over £3,000 with Sony's full frame A7Sii a bit less.
When you add a couple of lenses so you can shoot from a wide to a big zoom you could easily add £1,000 to that price.
Then there's the question of sound, on a camera that was never designed for quality audio recording. You'll spend at least couple of hundred more to get professional XLR audio and control over two channels individually.
With all the additional kit, you will probably want a cage to hold the whole thing together: £100 for a very basic model and over £1,000 for top of the range kit.
Then you may well want a monitor to supplement the tiny screen on the camera.
All that's before you've paid for microphones, tripods and the like.
If you buy an entry level professional camcorder you get everything in one. Two Sony cameras, the X70 and the higher spec Z150 will set you back between £2000 and £3000. The Panasonic DVX200 will be a little under £4,000 and the Canon XF3056 – a little older but a workhorse for HD shooters in the broadcasting industry – is around £3,700. But those prices include a lens that will go from wide to a long optical loom, XLR inputs and a decent sized screen to view what you are filming.
In the end, to do what you want, a camcorder will probably end up cheaper.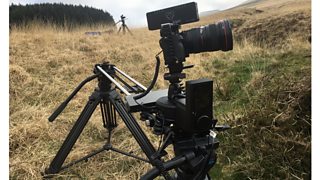 A DSLR recording a tracking time-lapse in the Brecon Beacons
Ease of use
No question: the camcorder is easier to use. It's designed for run-and-gun film-makers and doesn't have to provide the options needed by stills photographers. DSLRs can have horribly complicated controls which make it easy to accidentally change things like shutter speed – which you normally want to keep constant.
And with a camcorder, you only have one piece of kit. A DSLR rig can come dripping with audio and monitoring accessories. And many of them use batteries which can go flat in a flash.
Picture quality
While DSLRs have their technical detractors in the broadcasting industry, there is no doubt you get can get fabulous results. You have flexibility to change lenses and the camera will work with accessories such as gimbals, sliders, drones and more. You can, of course, do excellent stills on the side.
But the new generation of broadcast camcorders have bigger chips and a greater ability to control depth of field – so the DSLRs' advantage there is eroding. And while low light performance may not be up there with a top of the range DSLR, it is now pretty good.
One other consideration: professional camcorders usually record high quality interlaced video, used in much broadcast TV – particularly news and factual programming. DSLRs normally shoot progressive.
So which is best?
As always, it depends on what you want to do. If you're spending a long time setting up the perfect artistic shot and can't afford a high end TV camera, the DSLR wins every time. The DSLRs are great for time-lapse. And they fit into small spaces.
But when I see hard-pressed journalists at busy events such as trade fairs or press conferences, rushing around setting up interviews and grabbing shots on DSLRs, I do wonder if they could have saved themselves a bit of cash and bought a purpose-built TV camera.
How to protect a camera in extreme weather