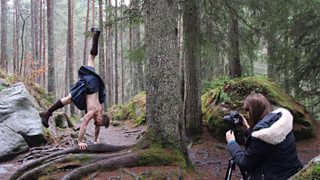 Two topless hunks in kilts, throwing their yoga moves in dreamy Scottish woodland, to rhythmic meditation music. What's not to like?
Before the #kiltedyoga video was posted on Facebook, my producer came to me and said: "It's going to do well". But I had no idea it would take off the way it did - 43 million views as we speak.
A few hours after posting everybody in the office realised it was going to be big. And yes, a fleeting, final glimpse of the guys' bare bums, as they co-ordinate controlled handstands and the pleats gracefully fall away, didn't hurt. Believe me, that wasn't planned from the start…
So where did it all start?
I was making film installations with contemporary theatre directors when I discovered that the BBC runs long-term training schemes, which was amazing. I applied for the Production Trainee Scheme because I was looking for an opportunity to develop editorially and I was lucky enough to join the scheme in September last year as one of 13 trainees on an 11-month contract. Following an initial placement with a creative team in London, I returned to my Scottish roots to work on 'The Social'.
Aimed at a social media-savvy audience, BBC The Social works with creative contributors across Scotland and develops them to produce their own content to be published on the website. I'm loving working with this team. They have a really collaborative ethos and seem to have embraced me as a resident filmmaker.
Our contributor Finlay, one of the guys in the video, is a professional yoga instructor. He'd been talking about some of the whacky yoga trends - like dog yoga - and he thought it would be funny to pretend that there's such a thing as 'kilted yoga'.
The Social producer Anna Fenton could see its potential and was really excited about the idea. She paired me up with Finlay to work on the video.
We decided to shoot it in The Hermitage, some National Trust woodland near Perth and I set off with my 6D camera and a standard photography zoom kit lens. But it all happened so fast that I was still thinking about how to approach the film while on the train to our location.
In the end, it turned out to be quite straightforward. I knew that Finlay and his collaborator Tristan had to act as it they were taking themselves far too seriously, in order to sell it.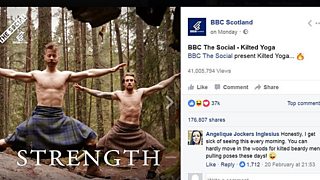 When we started filming, the guys were chilly and debated whether to keep their tops on. I found myself saying: "As your director I'm telling you that you should keep your tops off because the audience will want that… ," while laughing awkwardly, because I suddenly felt a little creepy.
But that's what I find so funny - that the 'Diet Coke Guy' is still a caricature that people have a lot of fun with. The film is about us laughing at ourselves and I think most people got that.
We spent a ridiculous amount of time trying to get the guys' handstands to work at the same time. I loved the way Finlay's kilt unfurled on one take so I knew I could crop into that. Tristan had been struggling to get his kilt to fall and he did this hilarious hip wiggle to make it drop. Once that happened I knew we had an ending.
I didn't want to make the film feel twee, so I avoided using plinky plonky 'Scottish' sounds and chose some Shamanic-sounding music instead.
The edit itself was quite simple with some hilarious discussion among the team about when to reveal Finlay's bum. I chose to put 'Freedom' as the end caption because it was a gentle poke at the film Braveheart, as well as meaning the freedom of… well y'know!
All the choices made were quite straightforward. If I'd known the reception it was going to get I would have agonised over everything, instead of just cutting it in the simplest way to sell the sketch. The whole film cost £17.50 which was my train fare.
The spoof film we produced celebrates the Scottish sense of humour, which is a big part of BBC Scotland's culture. We tapped into an international lifestyle trend and gave it a national twist by celebrating 'Scottishness' through the landscape and parody of the piece but without becoming parochial. I feel passionately about that and it's great to see it reflected when BBC Scotland programmes are broadcast nationally.
Our video was designed for Facebook but posted on The Social's Twitter account and YouTube channel too. BBC Three shared it; Cosmopolitan, Mashable and Buzzfeed picked up on it; it was retweeted by - among others - Outlander star Sam Heughan and Judy Murray.
Newspapers from all over the world talked about it and friends told me they watched it featured on news programmes from Finland to the US and Australia. It created its own hashtag and people made spoof copies of it. The guys were getting attention from everywhere and have now made television appearances. It's not every day that kilts set the internet on fire!
Despite having a viral hit, I haven't studied the comments too much, but most people just seem to love it. What have I learned about what makes a piece of content go viral?
It's important to tell the story as quickly as possible
Tapping into current trends is useful - but you can dare to be a trend-setter yourself
A hook is a good device because it can collectively bind people into a shared cultural thing, that people can - and did - copy for their own social networks
Humour, parody and upbeat, feel-good stories seem to do well
But I guess a strong social media video is anything that provokes clear emotions in people - humour, disgust, anger, life-affirmation
This was my first professional foray into social media and it's fair to say it's been amazing. The downside? How do you follow #kiltedyoga?
The BBC Production Trainee Scheme
What it's really like when your video goes viral