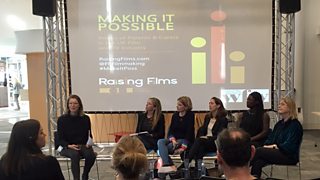 Left to right: Nicky Bentham, Amy Walker, Alicky Sussman, Milla Harrison, Afia Nkrumah, Kate Kinninmont
Working in television and having children just don't go together, especially for women, a BBC audience was told. As Kate Kinninmont, CEO of Women in Film and Television put it graphically: "having children is a career killer for women." Or if you prefer stats, Nicky Bentham, founder of Raising Films, quoted a startling one: just 14% of women who work in UK film or television are parents, compared to 75% across UK industry as a whole.
Nicky was chairing an event for BBC staff called TV and Family Life – although from the general tenor of the discussion, it might have been called TV or Family Life. While it was an opportunity to air problems and horror stories, it was also a chance to hear about – and marvel at – some triumphs too.
Afia Nkrumah, a director for EastEnders, described the elaborate patterns of childcare she has put in place in order to fit the requirements of TV directing into her life. They include providing coffee and croissants to friends at 6.30 in the morning to pay them back for helping with the school run; cooking a week's meals in a four hour marathon on a Sunday; and having a child-minder who happens to love EastEnders, so that if Afia doesn't get back on time, the carer won't mind staying on to watch the soap at her house. (I imagine the odd tale of what happened on set that day might also help.)
Another success story came from Alicky Sussman and Milla Harrison, factual producer/directors who have job-shared with each other on several films and series, starting at the BBC and are currently doing so freelance, as edit producers on a Channel Four series. Their Horizon film Hair Care Secrets is on BBC Two this week.
"The key is being able to communicate enough [with each other]," Alicky said. Working in an edit, they must try not to contradict each other or repeat themselves to the editor.
Milla said that their relationship was helped by the fact that when they started working together, they had had almost the same amount and the same kind of experience, making them very equal partners. They first co-produced a Horizon together 14 years ago when neither had been responsible for a 60 minute film before.
Alicky added that it helped to land a job if you could present yourself as established job-share partners. Both said that it's a good deal for the employer because inevitably each of them ends up working longer than they're contracted for.
Amy Walker, founder of Media Parents, which works with 3000 television employers, advised job applicants to approach employers confidently – but carefully: it's harder to set up a job-share with a company that's starting a new series, she said, because established series know better the pattern of work they will require. Be positive, Amy said, ready to tell the employer how they can make a job work flexibly. For job-sharers, she recommends having a common email inbox so messages aren't missed or doubled up.
When it comes to the big picture, there's plenty that needs to change. Kate Kinninmont complained that "our industry has this 'last out of the office is a sissy' syndrome." It's different in nursing, for instance: "why have we got this particular attitude to people with children?"
She advised women to "think about yourself as your own business. There's no headmaster looking over your shoulder. Nobody else is as interested in your career trajectory as you are."
Raising Films' industry survey, of more than 600 self-selected respondents, revealed strongly-negative attitudes to the effect of caring for children or parents on careers: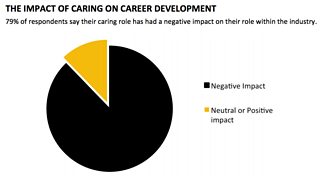 Used with kind permission of Raising Films
When asked about the key challenges presented by their caring responsibilities, survey respondents' most common answer was "long hours" – followed by "financial uncertainty".
The final part of the Raising Films report on their survey is about possible solutions. The most widely supported was the idea of tax relief for care expenses, whether for childcare or looking after older people. Nicky said her organisation was trying to work with government to "make real, fundamental change".
That change is necessary was obvious when a woman asked a question about her insecure employment situation: she was on a series of contracts for television production, she said, each rolling into the next but with no guarantee of an extension and no decision about that until the very end of the contract. Nothing unusual about that, you might think – until you heard the length the contracts she was talking about: two weeks.
Jobs and careers in production