For anyone still struggling to write that perfect SEO headline, intro or tweet, there is good news - and perhaps less welcome advice - from BBC expert Rob Millard.
Is SEO (search engine optimisation) a "dark art"? Absolutely not. Do you need an SEO "guru" to set you and your website on the right track? Not necessarily. Can it be a quick fix? Almost never.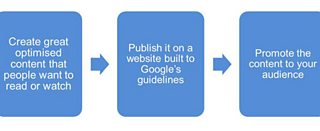 The BBC's own guru (he leads on SEO for BBC News) offered some universal pointers during a recent presentation for BBC staff. The technology behind SEO (search engine optimisation) might be complex, but Millard had three golden rules for making what you produce searchable online:
Create great 'optimised' content that people will want to read/watch
Publish on a site built to Google guidelines (for those with the technical knowhow)
Promote content to your audience
A broad brush, you might think, but while Millard had plenty of extra tips to raise the profile of web content - amid Google's two trillion searches a year - he kept coming back to these and a few more basics: do the research to find out what people are interested in; use language they understand; make time to actually put good methodology into practice.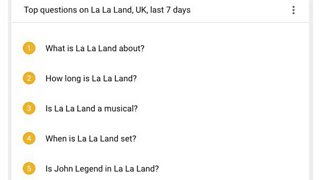 What's the buzz?
In the business of audience optimisation, as well as searchability, a good starting point was Google Trends, to find trending topics and key words people are using to find certain stories, "almost in real time". This can be insightful for news stories, but also more widely useful for feature material, he said.
La La Land has been a big topic in the last week, so if you're writing a profile of the film, it could inform your piece to know that among the top five search questions recently have been "When is La La Land set?" and "Is John Legend in La La Land?".
On the allied topic of the BAFTA Awards, also trending, "How can I attend a premiere?" was, perhaps surprisingly, the fifth most popular search query. Could that be a feature in the making?
For hard news, data on a trending term like "Brexit" can be filtered over a chosen period to, say, "latest" (perhaps helping to update an explainer) or "rising" (showing fastest growing recent interest). Millard's advice was to use the Google tool as broadly as possible.
The free research tool answerthepublic.com - based on auto-suggest results from both Google and Bing - was also worth using for insights into people's preoccupations, he suggested. (Enter "Deeside" and among 32 sample questions asked are "When did Deeside railway close?" and "Who owns Deeside brewery?".)
The term "Brexit", of course, produces many times more, broken down into "how Brexit…", "when Brexit…," "why Brexit…" etc – prompting different potential story angles, Millard said.
Mind your language
One "misconception" the BBC News man was keen to knock down was that SEO is about "clickbait and cheap traffic": "The fact that people are searching for, say, 'Brexit' means they're already engaged. They've bothered to search for that term before they hit your site," he pointed out.
So to "optimise" the chances of more people finding your content, producers and journalists needed to "use the same language" as their target audience.
With apologies to colleagues on the BBC News website, Millard cited a recent headline on an industrial fire story (Firefighters tackle blaze at Deeside paper mill). Though a term beloved of journalists, "blaze" is not one most people would ever dream of including in a search, he argued. "Deeside fire" was a much better bet.
Asked about optimum placement of key words, Millard's advice was to keep key phrases intact in headlines or use a 'kicker' (two or three words followed by a colon), as a good way to get searchable terms up front. Search engines were now pretty good with synonyms, he added, so there was less need to repeat key terms throughout an article.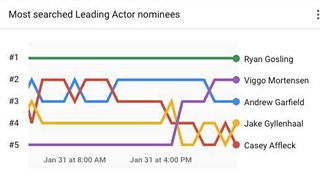 Interest in Viggo Mortensen's Oscar nomination made it a rising topic on Google Trends
Promote and persist
Promo opportunities were pretty open-ended, but (for BBC News, at least) any checklist would include your own website and homepage, other sites within your organisation, Facebook, Twitter, Instagram, Reddit, email newsletters, shares by co-creators and influencers, industry contacts.
"Process like that is good", Millard maintained. "It's beneficial to be thinking: 'What do I do next?'
"Are you using Google Trends in planning meetings? Are you gathering SEO requirements when you build new website features?"
A common pitfall for editorial teams, he believed, was to hire an SEO agency, only to then fail to budget for the time the team needed to implement the expert advice.
"You may not get instant traction - it can take years to fine tune a site for search," he warned.
"But look at the processes you've got in place, rather than one-off results."
Watch Rob Millard's presentation on SEO (BBC staff only)
Search engine optimisation (SEO)
How web analytics informs online journalism