The BBC's Black and British season was everywhere last November. Born out of David Olusoga's Black and British: A Forgotten History series and anchored on BBC Two and BBC Four, its programmes and online content featured history, comedy, live current affairs and plenty in between, and ranged across BBC channels.
But there was a catch. Around half of all black Britons are under 30 and members of that key audience are not big viewers of either BBC Two or Four ("under-served" in the jargon). They're much more likely to be online or on social media.
Cue two separate digital strategies that both achieved a bigger bang for their buck in terms of engaging that target audience. Between them, the #blackbritishhero social media campaign and a live-streamed series of BBC 1Xtra Talk programmes reached millions of people on social that may never have dreamed of watching a BBC Two history show. (Having Tinie Tempah and Lewis Hamilton on board didn't hurt.)
Anya Saunders, BBC Studios' lead producer for digital storytelling, unpicked both initiatives at a recent briefing on audience engagement for BBC staff: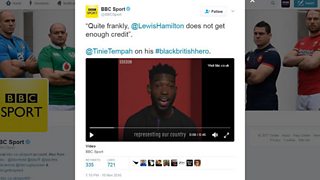 Tiny Tempah's nomination of Lewis Hamilton as his black British hero was posted by BBC Sport
Black British Hero
The hero campaign set out unashamedly to "reach a mainstream audience and drive attribution back to the BBC season", Saunders said. At the same time, video contributions by high profile talent and influencers - all nominating their own inspirational black British hero - drew in an audience "way beyond" the traditional BBC heartland.
The cast included Lenny Henry, Baroness Amos, Andrew Marr, David Harewood, Maggie Aderin-Pocock, Shane Ritchie, Gabby Logan, Beverley Knight, rapper Nolay and England women's footballer Alex Scott. But it was the video made by Tinie Tempah, nominating three-time Formula One champion Lewis Hamilton as his personal hero, that hit the jackpot.
The pair have a combined Twitter following of six million and the video was posted to BBC Sport, among the biggest BBC social accounts the campaign managed to involve. (There were 20 others - all with different audiences to satisfy, and "no mean feat" of collaboration, Saunders admitted.)
"It was always going to be a key moment… But we wanted to maximise the might of Tinie's and Lewis's social media." Some concerted "liaison" followed with agents and the celebrities themselves – "encouraging them to share posts, contacting them when a post went live, and again when they did nothing about it". After a few hours, Hamilton tweeted his response, the rapper responded and #blackbritishhero was trending.
That effort alone earned 12 million Twitter impressions, but there were some other heroic campaign figures:
100 videos across BBC social media platforms
10 million Facebook views
More than 250 million total Twitter impressions
Of 90 individual talent and influencers, 61 shared/posted content to their followers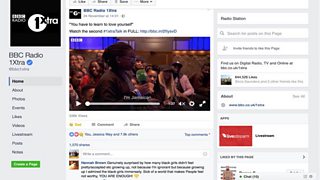 A clip of a young Jamaican woman's story of bullying, told in 1Xtra Talks, had 500,000 views
1Xtra Talks
The BBC's network for new black music was a natural partner to help the Black and British season reach the under-30s. Joint workshops involving 1Xtra listeners led to a special series of discussion shows on issues young black British people wanted to talk about: what it now means to be black in Britain; black identity and culture.
"1Xtra were keen to do the shows live. We saw a great way to monitor audience response and simultaneously reach a bigger [social] audience via Facebook Live," Saunders explained. Audience engagement rates were higher than the average for 1Xtra social accounts, she said, with content from the shows reaching 1.5 million viewers and listeners, across all platforms.
Interactivity was important too. A beefed up social media team of six responded live to comments and fed those back into the programmes. The team could see, from comments and emotional responses on Facebook, what was hitting the mark and when.
"Moments that had a lot of response were those that really resonated. So we clipped those moments up and put them out on social media after the live show."
A particularly powerful clip, in which a young Jamaican woman in the studio audience describes how years of racial bullying at school in Britain made her hate the way she looked, had half a million views - a "fantastic" result for a small BBC platform like 1Xtra, Saunders argued.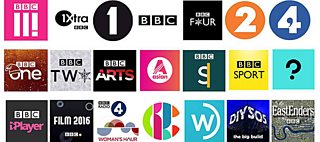 The Black and British team collaborated with 21 BBC social accounts to help share content
But how easy is it to measure whether the two campaigns really did reach the sought-after young black audience?
"That's hard to measure via analytics because they're not linked to race," the digital producer conceded, although analysis had shown that content reached a young male and female demographic, and interestingly, slightly older women too. "Anecdotally", interaction with the 1Xtra shows, for instance, had shown a sizeable young black audience being engaged, she said.
Given that Saunders was talking to an audience of BBC content makers, her top summary tip was to collaborate with lots of BBC social media producers to capitalise on all that reach - if not always 21 at a time. It was also wise, on potentially controversial subjects like race, to prepare in advance how to respond to any hostile comments on social media. (For BBC teams, that means liaising with BBC Editorial Policy experts and moderators.)
Otherwise, she advised:
Use talent and influencers to reach fresh audiences
Engage with your audience, listen to what they're saying and respond with content that resonates with them
Powerful, emotional content flies
A hotline to rappers and racing drivers could also makes a difference.
Watch the Black and British presentation by Anya Saunders (BBC staff only)
Engaging social media audiences
Podcast: A day in the life of 1Xtra
How #findthegirl engaged a BBC Three audience in weeks of social sleuthing