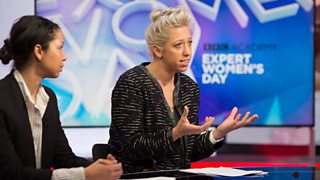 There is a broadcasting industry consensus that there are still not enough expert female contributors appearing on air. BBC Expert Women aims to redress the balance by inviting subject specialists with great communication skills to compete, via video application, for intensive free training days that have already helped launch new media careers.
A total of 450 applied to take part in the latest BBC Expert Women's Day. Just 24 were chosen. I shadowed some of the women experts as they were put through their paces at BBC Broadcasting House last week to find out what they learned, and what they most wanted to know:
The BBC Expert Women class of 2017 included lawyers, scientists, political analysts, entrepreneurs, coders, cultural leaders and sex educators - all women with particular expertise, all keen to share their knowledge on TV, radio or online as contributors or presenters.
The final 24 had gathered at the BBC's London HQ for a free media familiarisation day, organised by the BBC Academy in conjunction with BBC News and Women in Film and Television UK. It was clearly a good feeling to belong to this cohort.
"Pretty sure there is no better line up to be a part of than this bunch of unimaginable excellence," tweeted crowdfunder and community start-up expert Jessica Ratty (pictured above, facing the TV training cameras alongside human rights advocate Lucy Freeman).
Chloe Duckworth tended to agree: "Wow. Only word to describe #expertwomen day at BBC. Biggest ego boost? The quality of the other women attending it," the archaeologist and vlogger posted on Twitter.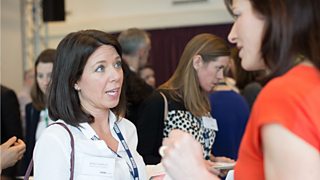 Expert networking: BBC Breakfast's Kelly Crawford meets music producer Juliette Pochin
Networking opportunities at Expert Women's Day (EWD) - among the women themselves and with a host of BBC and other broadcast professionals - were undoubtedly central to the experience.
But first, there were some hard industry facts to swallow. Professor Lis Howell, director of broadcasting at London's City University, set the context of the day with some sobering stats from research she conducted in 2014.
On the UK's main broadcast news programmes, women contributing to items on politics were outnumbered ten to one by men; for sport, it was six to one; home affairs, five to one; entertainment, four to one; and even health, by two to one.
Following a campaign to change those ratios - led by Howell, backed by Broadcast magazine and supported by initiatives like EWD - there had been marked improvement. Between 2014-2015, female contributors were up by 37% on Channel 4 News; up 34% on Sky News; up by 19% on the BBC's Today programme; up 2% on BBC News at Ten; but down by 22% on the 10pm bulletin from ITV News.
Still a way to go, Howell concluded, commending the 24 delegates not just for making it thus far, but for "sticking their heads above the parapet".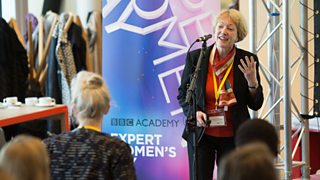 Lis Howell addressing delegates in Broadcasting House
The need to be proactive - in a deadline-driven business, where the "usual suspects" in journalists' and producers' contact books were still too often male - could not be over-stated, said Mary Hockaday, controller of BBC World Service English.
She urged the 24 not to be slow in putting themselves forward. For Hockaday, the thrust of the day had to be "get over yourself". "Drink water", was her other hot tip.
There was plenty more professional advice to come - from voice control to pitching ideas - plus some in-at-the-deep-end experience of contributing to a radio programme and being a TV studio guest.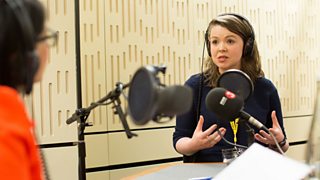 Community expert Janine Green is Sima Kotecha's guest in the radio training studio
On the radio
Exercise one was a round-table discussion in what is usually a BBC Radio 3 studio. In the presenter's chair was Today reporter Sima Kotecha, who asked the experts Brexit-related questions, targeting their specialisms.
"How will I be introduced?" and "Can you ask what the first question will be?" the guests wanted to know. While the gist of the interview would be outlined, questions were not normally supplied in advance, Kotecha explained: "You might say something more interesting that takes us off in a whole new direction," she said.
Her other advice? "Pretend you're having a conversation, talk to one person, be succinct, know where you're going with a sentence… don't presume knowledge."
First off, software designer Alex Hindley, communications specialist Sandy Lindsay, EU policy analyst Maria Chen and lawyer Pritheeva Rasaratnam all had their say - on the skills we'll need, post-Brexit - under the gaze of BBC Academy trainer David Clargo.
It was really tough not knowing what that opening question would be, the women discovered. But the experts had impressively kept a lid on their nerves, Clargo observed. Other positives included picking up on what others had said. Playing with the mic, however, was "a no no".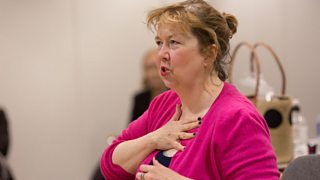 Voice coach Elspeth Morrison gives a masterclass on pitch, tone and nerve control
A voice for broadcasting
"The holy grail of voice is that you don't hear it, you hear the content instead." (Think BBC News presenter Mishal Husain.)
That maxim from voice coach and regular studio pundit Elspeth Morrison came amid a crash course in warm-up tips, pitching, pausing, breathing, word-stressing and more.
For a group whose voices hailed from Scotland via Northern Ireland, Canada via Belgium, Merseyside, Wales, South London and beyond, there was reassurance that tone, volume control and fluency counted more than accent.
"Imagine you're talking to someone in a parked car that you're not having a row with," was Morrison's tip on loudness. On preparation: "Warm up your thoughts and say them out loud."
Some women had concerns about nerves sending their voices up a pitch, sounding "nasal" when tense, breathing too loudly. The coach's advice was to recognise what your voice's "default pitch" is and listen back to yourself speaking.
Otherwise, be "punctual and polite" (if you want to be asked back) and be prepared to be "self-sufficient" if the interview takes an unexpected turn.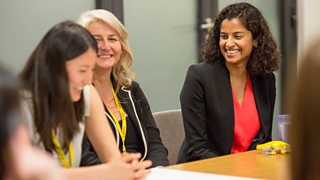 Maria Chen, Sandy Lindsay and Pritheeva Rasaratnam enjoy some expert advice
Ask the media experts
Three panel sessions gave the expert women a chance to quiz expert broadcasters about the best way to take their next steps in the industry. There was both encouragement, and some reality checks.
"What we love is putting people who know their stuff on the radio… More than anything, we want a conversation," said Tom Bigwood, producer of Radio 2's Jeremy Vine show.
"Be proactive, listen to the output, think what you would do with that subject," was Woman's Hour producer Erin Riley's advice. "And never apologise for being clever," she added. Her programme, for instance, was always on the look-out for a "voice of authority", able to work with a producer on short features.
There were reminders that, in the crowded news cycle, a 45-minute expert interview might be reduced to a brutal ten seconds on air. But with seven million viewers and an appetite for "more diversity" in its line-up, BBC Breakfast could be a great platform for experts with something fresh to say, said the show's deputy editor Kelly Crawford: "You can get an awful lot out of three minutes on the Breakfast sofa," she promised.
What about slip-ups at the microphone? In science and technology, in particular, you could be "pilloried on Twitter" for an on-air mistake, one delegate feared.
Preparation was important, said Hugh Levinson, executive editor in BBC Radio current affairs, but he added: "Let the producer know what you know about, and what you want to talk about." And if all else fails, "you can diffuse a lot with humour".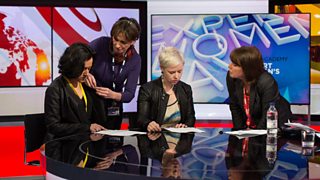 Cultural consultant Harpreet Kaur and Chloe Duckworth prepare for their TV appearance
On the television
My group's grand finale was in a BBC TV News studio, interviewed in pairs on topics broadly connected to their expertise by BBC London presenter Riz Lateef.
Sex education specialist Rachel Fitzsimmons and fashion/brand consultant Basma Khalifa debated the sexualisation of young girls; social enterprise founder Annemarie Lewis and Sandy Lindsay discussed the hurdles facing young entrepreneurs; neuroscientist Alice Gray and Alex Hindley tackled the shortage of women in science; while Maria Chen and Pritheeva Rasaratnam wrestled the legal complexities of leaving the EU.
By consensus, it was the most nerve-wracking part of the programme and there were mixed emotions among the women as they watched back recordings - spotting expressions and body language they never knew they had.
Lateef and studio producer Gwenan Edwards, however, were decidedly upbeat in their feedback, particularly about "natural" interactions between the expert guests, inclusion of personal experience and just how relaxed the women had appeared on camera. If there were nerves aplenty, they were - again - well disguised.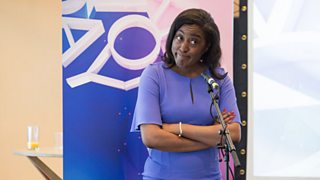 "Grasp the nettle": barrister and broadcaster Sophia Cannon urges a confident approach
Since 2013, alumni of successive EWD programmes have gone on to make hundreds of media appearances, including on BBC News, Channel 4, CNN and Discovery Channel.
Among them are historian and curator Charlotte Connelly who's appeared on BBC World News and Radio 4; sociology professor Tina Miller, a contributor to Woman's Hour; and Sally Marlow, an expert in alcohol addiction, who made a news package for the Today programme just weeks after her EWD training. (All three talk about their move into media work in this Academy podcast.)
Hugh Levinson discovered professor of politics Rosie Campbell among last year's intake. She has since presented three editions of Radio 4's Analysis.
Weeks after joining a past EWD scheme in Belfast, barrister Sophia Cannon was being interviewed on the BBC News Channel. She is now a published author and working on a new BBC programme pilot. Cannon was a special guest at last week's gathering, injecting an extra confidence boost in her closing remarks to delegates.
"You're here not just because you're women, not just because you're dynamic, not just because you're expert - but because you know it. Grasp that nettle," she urged.
Kate Kinninmont, CEO of Women in Film and Television (WFTV) aims to track the progress of the class of 2017. All the latest expert women will have free WFTV membership for a year, with access to professional mentoring and support. Maintaining the new "network" delegates had built through the scheme, would be just as important, she said.
Should more inspiration be needed, next week's primetime BBC Two documentary Obesity: How prejudiced is the NHS? will be presented by Professor Rachel Batterham, research scientist and head of obesity services at University College Hospital.
All photography by Anna Gordon.
For a snapshot of BBC Expert Women's Day 2017, watch a video of the experience by BBC Academy trainer and film-maker Deirdre Mulcahy: