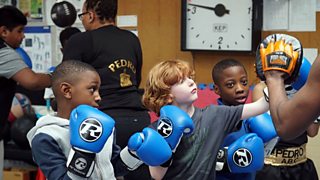 Boys from a boxing club in Hackney face a moral dilemma in episode three. Photo: Stevey Jones
Love and hate, fear and danger, right and wrong: as documentary themes go, they don't come much deeper. When the people providing the opinions and judgements on camera are aged five to 11, well - anything can happen.
For the team behind BBC Two's The World According to Kids, the jeopardy of what the project might produce was more than outweighed by the rich seam of humour, emotion and disarming wisdom they unearthed over more than a year of filming.
Of course, with children not only the 'stars' but also driving the narrative, nothing could be left to chance in terms of safeguarding the young contributors and their families.
As the series reaches the middle of its run, I asked executive producers Rachel Arnold and Samantha Anstiss about some of the logistical, editorial and ethical considerations presented by the six-part series.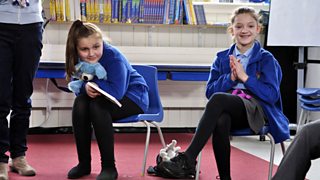 Schoolfriends Amy (left) and Martina with special items they love. Photo: Charlie Slade
For starters, how hard had it been to get the idea commissioned by BBC Studios?
Not very, as it turns out: "It was pitched before Channel 4's The Secret Life of 4,5 and 6 Year Olds broadcast last year, but commissioners were still very keen because our series is completely from the children's perspective," Arnold says.
Unlike the Channel 4 series, which experimented by putting children who were strangers together in new social groups, The World According to Kids focuses on existing friendship groups, including after school clubs around the UK: "We particularly wanted natural dynamics in their existing relationships," Anstiss explains.
They also wanted expert guidance in encouraging the children to say what they think about some of the biggest issues on the planet, so hired educational consultant Gordon Poad and a team of philosophers to develop a set of real-life dilemmas and challenges. (Who gets the last seat in the lifeboat? What would you do if you found a suitcase full of cash?)
But first, how did the producers go about finding their 'cast' of kids?
Sam Anstiss: "The ambition was to have 70 children from different social backgrounds, urban and rural, and look at how they see the world. So the research was extensive."
"We identified a broad spread of locations across the UK and then looked for different sorts of groups," Arnold adds. Bird-watchers in Mull, choristers in Liverpool, boxers in Hackney, a Newbury pony club and a Bradford debating society are all in the mix.
The group leaders and teachers were then approached to supply short video clips of children answering scripted questions. From these, casting could begin in earnest.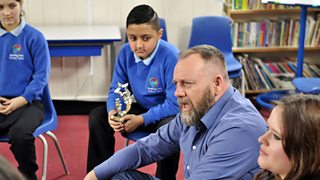 Gordon Poad leads a discussion in Bradford on items that mean the most. Photo: Charlie Slade
BBC programme makers have a battery of statutory and best practice guidance to draw upon and comply with when working with children, including on child protection, informed consent, licensing by local authorities and chaperoning.
Approaching parents for consent, never working alone with a child and monitoring the hours they're on camera are perhaps obvious safeguards. Aspects like managing disappointment, when a child isn't chosen to take part, also needs to be in the toolkit.
All of the above came into play for the production team criss-crossing the country to capture the intimate insights of their primary school-age subjects.
Often, documentary formats relying on candid moments with kids have to factor in a likely drop-out rate. This time, however, the response from children and their families approached for informed consent was "overwhelming".
"We didn't have a single contributor pull out after filming," says Anstiss. "I think it's understandable to want your children's views to be heard. This isn't us treating kids as lab rats - they're in the editorial driving seat, giving us their view of their lives."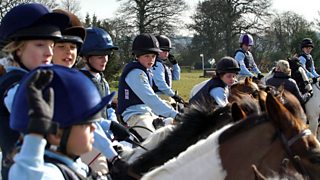 Children from a pony club in Newbury. Photo: Hayden King
Some recording was done via Go-Pro cameras issued to the children to film themselves at home - as major events in their lives unfold, in thoughtful pieces to camera (PTC) or just flying along on their bikes with body rig attached. Fixed-rig cameras capture the often dramatic outcomes of exercises they're set in their club or school venues and traditional documentary filming provides the links.
"We worked closely with BBC Editorial Policy advisors throughout, including on fixed rig filming and self-shot PTCs. We had to make sure nothing we used would make the children vulnerable or at risk of bullying, for instance," Anstiss explained.
Of the 70 children featured, a much smaller number inevitably emerge in leading roles. There is nine year-old Eoin from Gloucester, who has a rare form of dwarfism and talks movingly and with great maturity about his fear of being "different"; stoic young Daniel from Bradford, a science fan who longs for a visit from his soldier dad and records their touching Skyped conversations; five year-old Bruce on remote Mull, who looks you in the eye and describes how he "teleports" to China; and madly ambitious Meira from Liverpool, who recites square root times tables in the car, en route to choir practice, as she prepares for a top school entrance exam but frets at leaving her old friends behind.
"The children who came to the fore were all articulate, all very different, some from quite challenging backgrounds, every one engaging," Anstiss says.
However, this wasn't an X-factor audition: "We weren't looking for the most attractive kids. It takes a lot of time to work through their back stories and find the most compelling subjects."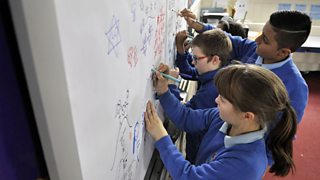 Chloe, Daniel and Rahease reveal their 'loves' and 'hates'. Photo: Charlie Slade
There are laugh-out-loud moments, as when little Bruce chooses 'moving house', from a selection of possible worst fears, because he imagines his beloved family home being literally dragged across the island.
There is drama, including in this week's episode, where Gordon Poad presents the boys from a Hackney boxing club with a suitcase full of cash they've 'found' in the street. Do they hand it in to the police? Share it out? Give it to charity? A vivid morality tale that packs a punch.
And there are episodes that bring a lump to the throat. In a scene filmed at a Gloucester drama club, the children are given £10 to donate to a good cause on which they must all agree. Refugee and meerkat charities are looking favourite until a tearful appeal by a boy called Nathan, who has recently lost his granny to cancer, prompts a sombre-faced change of heart by his peers. A cancer charity gets the tenner.
"There are some very exposing and emotional moments, including when they surprise you by doing something quite adult. After a scene like the £10 donation we would talk later to children, parents and teachers to make sure everyone was now in a happy place," Arnold explains. "That particular moment was joyful to watch."
Did the programme team ever feel the need to pull the cameras back?
"Yes, there were instances where we did pull back - where children were very candid and possibly too open and intimate, for instance, in what they said about mum and dad's relationship," says Anstiss. "There are clear guidelines here. No one's life must be made worse by what we show."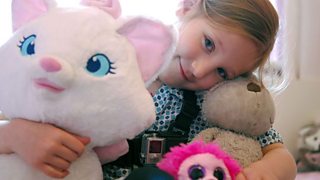 Holly from Liverpool wearing a Go Pro, with her toys. Photo: Danny Fildes
A year's worth of filming and recording, using multiple sources, made for "a complex edit", Arnold admits: "We arrived at the structure we wanted by episode two."
The team kept families informed about transmission dates and shared some material in advance that was particularly emotional or personal. If there were any issues arising after transmission, the programme-makers would maintain contact, say the execs.
Anstiss and Arnold are widely experienced producers and commissioners. Now creative director for the Auntie Productions label within BBC Studios, Anstiss is a former documentary commissioner on output like BBC Three's Life and Death Row and Small Teen, Big World. BBC Studios' creative director for factual entertainment, Arnold executive produced the award-winning Junior Doctors series and was the exec on I'm a Celebrity Get Me Out of Here at ITV.
Between them, they also have five children of their own. So did The World According to Kids have anything to teach them?
"When you're working with adults on a story - say, leading up to a wedding - the narrative plays out and then you finish filming," Anstiss concludes. "Kids are so spontaneous that they'll talk about mum's upcoming wedding for ten seconds, then about their Barbie doll for half an hour!
"In storytelling terms, they're never structured. They constantly flip from one thing to another. So you need lots, and lots of patience. But you learn that it's worth the wait."
The World According to Kids, 8pm Thursday 27 April, BBC Two and on BBC iPlayer
Working with Children at the BBC
Children on camera: Taking care of the kids in factual TV
CBBC's Our School: Fixed rigs and children (podcast)