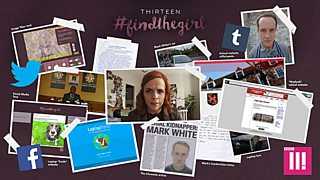 How do you create an enhanced audience experience for an online-only TV show?
That was the challenge that our team, the BBC Digital Guerrillas, were set by BBC Three: create a digital experience to accompany the channel's new high-profile drama Thirteen.
We're a Birmingham-based team of BBC digital specialists, developing ideas and content experiments for young audiences. Thirteen was BBC Three's first new drama launch after the channel moved online and followed the story of Ivy Moxham, who was abducted at 13-years-old and who escapes her kidnapper after 13 years in captivity.
Digital experiences for TV shows certainly aren't new, but creating one for a new drama at the very start of BBC Three's life online felt like a particular challenge – one that would need an experience compelling enough to engage an audience used to on-demand viewing, in a rapidly changing digital landscape.
Working with writer Marnie Dickens and the show's executive producer Liz Kilgarriff we developed #findthegirl, a parallel story set in the world of Thirteen that came to life on social media immediately after the first episode. It played out on social platforms, including on Tumblr, and was curated on the channel's Best Of Three site.
The story centred on fictional character Sarah Hays, a Bristol-based hacktivist with at first unknown links to the story world of Thirteen, who stumbles into a scene featured in the first episode of the drama. Sarah's story ran for five weeks between the weekly episodes of Thirteen.
Our parallel missing girl story followed an investigation that Sarah needed the audience's help to pursue. We created a number of challenges for the audience to complete as part of the investigation – such as 'hacking' a website and analysing stolen evidence – all linked closely to the storyline of the main drama. Sarah (actress Charlie Russell) vlogged regularly on YouTube and short-form video helped us to create moments of high drama in our story.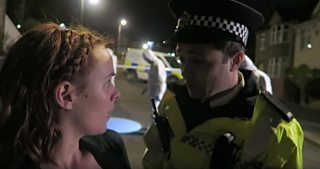 Sarah has a brush with the law in a video action scene from the #findthegirl side story.
Having had time to evaluate the whole project, here are some of the key things we learned in developing and producing #findthegirl:
Collaborate early
One of the keys to the success of #findthegirl was developing the idea while scripts for the drama were still being finalised, before filming had started. This meant our team's digital specialists could work closely with the writer and producers to design the companion experience and fully integrate the two story worlds – separate, but connected.
We were able to use the same locations and sets as the main drama for our content (Sarah Hays even had a walk-on part), which was important in helping the audience buy in to our experience.
Choose the right platforms
Awareness of the different ways people behave on different digital platforms was central to how #findthegirl was executed. Twitter was a natural home for our character, and the best platform to take our experience to fans of Thirteen who would most likely be tweeting about the show.
However, we wanted to give the audience somewhere they could engage with our investigation away from the public forum of Twitter. On the #findthegirl Tumblr blog, people could comment extensively and discuss with other fans of the experience – and this was where we saw the most involved discussions and highest engagement.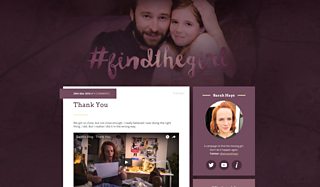 Take your content to the audience
Audience attention spans are limited, and we knew it would be difficult to attract people to a standalone website that hosted our story without engaging them on social media first.
So #findthegirl began with a native Twitter video of a scene from the show, posted by Sarah's account. Using the draw of BBC Three's social following, we attracted people who had been watching the first episode to follow Sarah Hays on Twitter. We used native social content throughout the #findthegirl campaign to take as much of the story to people's social feeds as possible.
Interact with the audience and foster a community
Having a central character to our experience meant we were able to interact more realistically with the audience. Sarah (a.k.a. our team's writer Ian Ravenscroft) interacted through her social media profiles – replying directly to people, rewarding them for sourcing information and developing a sense of community among #findthegirl followers. We were surprised at the level and warmth of response to Sarah's character. There grew up a community of fans of Sarah, or 'finders' as they became known, who were committed to helping her solve her investigation.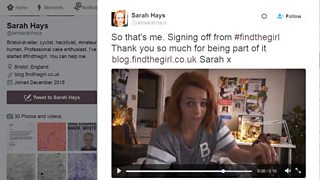 Don't just press 'go' – monitor, adapt, create and rework
#findthegirl was not a traditional digital project that went live on a particular day, it was a live agile production. While the story and key video and interactive elements had been produced in advance, the team monitored audience feedback and developed ideas for new content that could be produced quickly in-house to enhance the story further.
A schedule for publishing content was planned, but updated and adapted daily depending on how the audience reacted. Being able to adapt our story depending on how audience members were responding proved vital to keeping them engaged over the full five weeks.
Watch this video by Stay Still Productions to find out more about how #findthegirl was created.