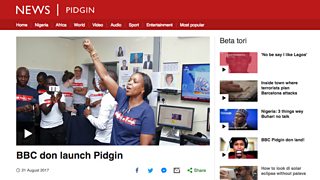 BBC Pidgin reports on its own launch
The BBC has launched a new digital service in Pidgin, the hybrid language spoken by more than 75 million people across Nigeria, Cameroon, Ghana and Equatorial Guinea. Pidgin dates back to the arrival of slave traders in Africa, with influences from Portuguese, English and French together with African languages.
The new BBC Pidgin service is the first new language offering in the biggest expansion of the BBC World Service since the 1940s. Eleven more language services will be launched soon.
In order to standardise Pidgin, here in the BBC Academy we took on the challenge of creating a news style guide – a big challenge in a language which changes every day and is held together without formal grammar or spelling. But accuracy and impartiality in news depend on consistency in language so we felt that this was the moment to create a guide for the use of Pidgin in BBC news output.
Chris Ewokor, the BBC's Pidgin specialist who bravely took on this task, was in no doubt about the magnitude of the job: "This is very much ground-breaking work," he told me, "I'm creating rules for capital letters that we never had before."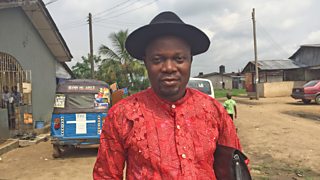 Chris Ewokor in Warri, Nigeria, an area well-known for its fluent Pidgin speakers
If you'd like a flavour of Pidgin from our guide, which discusses the use of all the following terms, here are a few selections:
Adrenalin: Power dey pump for im brain
Asylum seeker: Person wey wan enter anoda country and e nor get paper
Drink-driving: Drunkaman driving
Hurricanes: Wind and rain wey dey comot tree for ground
The guide standardises the names of locations, explains economic jargon and defines regional words, as one word may mean different things in different locations.
All BBC journalists working in Pidgin will be sent a copy of the guide. And by the end of the year it will be available on the BBC Academy International page.
We are planning to create similar language guides for Yoruba, Igbo Amharic, Afaan Oromo and Tigrinya, as well as Korean, Guajarati, Punjabi, Telugu, Marathi and Thai.
It's all part of trying to spread the word – or, in Pidgin, to make dem hear.
More from the BBC on the expansion of its World Service language services